---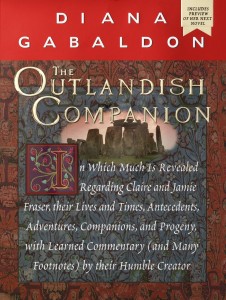 Note: This webpage provides details on the first edition of the OUTLANDISH COMPANION, published in 1999, which is no longer being published. Information about and links to the new, revised two-volume COMPANION, released in 2015, is below.
The original version of the OUTLANDISH COMPANION, first published in the U.S.A. in 1999, was my first guide to my bestselling OUTLANDER series. It contained background, cultural and historic details, and other interesting information from the research for—and development of—my first four major novels:
See the section titled "Publisher's Description" below for more details and a listing of the older, original COMPANION's contents.
An image of the dustjacked from the original edition of THE OUTLANDISH COMPANION is shown at upper right.
---
A New Updated Version Released In 2015!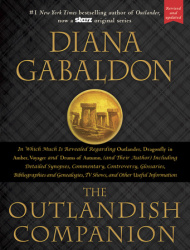 As time has passed, I had compiled additional material to add to the original OUTLANDISH COMPANION, and some information in the original guide had become a wee bit outdated. So a new, revised and updated version of THE OUTLANDISH COMPANION, VOLUME ONE, was released on Tuesday, March 31, 2015.
Volume one of the new COMPANION concentrates on my first four major OUTLANDER novels. Click for more information on revised and updated OUTLANDISH COMPANION, Volume One.
VOLUME TWO of THE OUTLANDISH COMPANION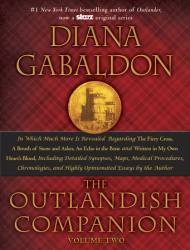 What about a reader's guide for the fifth through the eighth novels in my OUTLANDER series? As well as updating the original COMPANION, I created a second volume for my fifth through eighth OUTLANDER novels.
THE OUTLANDISH COMPANION, Volume Two, contains exciting new background, history, cultural facts, and other information about my second four OUTLANDER series novels. Volume Two was first published in the U.S.A. on October 27, 2015.
Click here for more information about Volume Two of the revised and updated OUTLANDISH COMPANION.
The OUTLANDISH COMPANION, Volume Two, focuses on
---
Original Publisher's Description (1999 Edition)
New York Times bestselling author Diana Gabaldon has captured the hearts of millions with her critically acclaimed novels, Outlander. Dragonfly In Amber, Voyager, and Drums Of Autumn. From the moment Claire Randall accidentally steps through a magical stone that transports her back in time more than 200 years to 1743, and into the arms of Scottish soldier Jamie Fraser, readers have been enthralled with this epic saga of time travel, adventure, and love everlasting.
Now Diana Gabaldon has written the ultimate companion guide to her bestselling series, the book only she could write — a beautifully illustrated compendium of all things Outlandish. As a special bonus for those who are eagerly awaiting the next appearance of Jamie and Claire, she includes never-before-published excerpts from upcoming works in the series. And there's lots more in this lavish keepsake volume for the many devoted fans who yearn to learn the stories behind the stories:
Full synopses of Outlander, Dragonfly in Amber, Voyager, and Drums of Autumn
A complete listing of the characters in all four novels, including extensively researched family trees and genealogical notes
Professionally cast horoscopes for Jamie and Claire
A comprehensive glossary and pronunciation guide to Gaelic terms and usage
The fully explicated Gabaldon Theory of Time Travel
Frequently asked questions to the author and her (sometimes surprising) answers
An annotated bibliography
Tips, personal stories – even a recipe or two
Essays about medicine and magic in the eighteenth century, researching historical fiction, and more
With the insight, humor, and eye for detail that has made her novels such an outstanding success story. Diana Gabaldon here gives her readers the best gift of all—THE OUTLANDISH COMPANION.
---
THROUGH THE STONES
As stated above, the U.K. edition of original THE OUTLANDISH COMPANION (1999 edition) is titled THROUGH THE STONES.
---
This page was last updated on Monday, January 15, 2018, at 12:36 a.m. by Diana's Webmistress.