---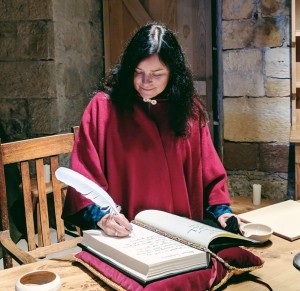 Listed below are the upcoming events where I will be making public appearances and signing books, as well as virtual (online streaming) events.
This webpage is updated as new events are added, so please check back periodically.
If you have questions about—or problems with—obtaining tickets for an event, please contact the listed host organization of the event first. All ticket sales are handled by event organizers and their ticket brokers.
I look forward to seeing you,
-Diana
---
October, 2023
---
October 20 through 22, 2023 (Fri.-Sun.) – SURREY, B.C., CANADA
Diana will host a workshop and participate in a panel discussion at the 31st Annual Surrey International Writers Conference.
Conference registration and paid fees are required. Attendees may choose to attend in person or virtually.
Event Host:
Surrey International Writers' Conference (SIWC)
Website: https://www.siwc.ca/
Event Venue:
Sheraton Vancouver Guildford Hotel
15269 104th Avenue
Surrey, British Columbia
Canada V3R 1N5
Diana Gabaldon will be a featured author at the 31st Annual Surrey International Writers' Conference (SIWC), a conference for aspiring authors and avid readers.
Diana will attend in person and participate in the following events:
Friday, October 20 from 2:30 p.m. to 3:45 p.m.: Diana will participate in a panel discussion titled "Dramatic Structure" with Robert Dugoni, Hallie Ephron, and Liza Palmer. Will be in person, virtual and recorded.
Sunday, October 22 from 11:45 a.m. to 1:00 p.m.: Diana will present a workshop titled "Dialogue." No matter how good a story may be, how vivd the descriptions, how exciting the plot, if readers trip over clunky dialogue, they'll fall out of the story and stop caring about characters who no longer seem quite real. Join Diana Gabaldon for insight into getting dialogue right. Will be in person, virtual and recorded.
The Surrey International Writers' Conference is an annual workshop-based conference with a focus on development of skills and industry-based knowledge. From beginning writer to widely published, aspiring authors may hone their skills and learn more about markets. Avid readers are also invited and encouraged to attend.
Many publishing professionals will be featured at SIWC, including well-known authors, editors, and literary agents.
This year, some workshops and events will be offered for in-person or virtual attendance from home, depending upon your chosen type of registration package. Events that are recorded may be viewed later if the option is included in your package.
Please see the SIWC website for more information on attending and making reservations at the conference hotel.
---
---
November, 2023
No official appearances confirmed at this time.
---
---
December, 2023
No official appearances confirmed at this time.
---
---
General Information – Appearances
Please keep the following in mind:
If tickets are required for an event, they may be free or require a fee which goes to the hosting organization or sponsor. Tickets for ALL events featuring Diana usually sell out very quickly once they become available.
Sometimes Diana's Webmistress doesn't receive information and details about events in a timely manner, and can't post what she doesn't have. Event hosts featuring Diana are strongly encouraged to notify Diana's Webmistress when they post an event with Diana, and also dates when tickets will go on sale so that readers will be kept informed.
PLEASE CHECK WITH THE HOSTING ORGANIZATION OR SPONSOR of an appearance or event OFTEN for the latest information, ticketing, venue changes, policies and updates! This list is provided as a convenience and my webmistress works hard to keep it current, but it may not always be perfectly up-to-date.
If you have questions about an appearance or need more details, please contact the host organization or sponsor listed, not myself or my staff. The hosts or sponsors do the event planning and have all the answers. Thanks!
Diana is always happy to sign and personalize your books at signing events as time allows. However, note that some events and venues may require a book purchase or have a limit on how many books you can bring from home for signing. Please check with the event host or sponsor if details are not listed on this webpage.
---
---
If you have questions or problems when purchasing tickets, PLEASE CONTACT THE EVENT'S LISTED VENUE OR HOST ORGANIZATION directly.
If you know of an event that Diana has confirmed she will attend that is not on this list, please let Diana's Webmistress know.
This page was last updated on Monday, October 9, 2023 at 10:10 a.m. (Central Time) by Diana Gabaldon or Diana's Webmistress.