---
October 20, 2014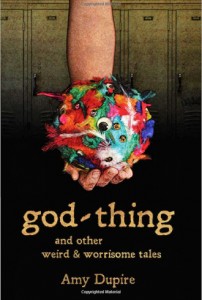 The latest entry to The Methadone List is Amy Dupire's GOD-THING (AND OTHER WEIRD & WORRISOME TALES). As the title suggests, it's a collection of short stories, ranging from the evocatively sinister to the outright creepy. Not outright horror… but you can feel a cool breeze blowing on the back of your neck as you read.
I am Deeply Impressed by anybody who can tell a decent story in fewer than 300,000 words, as that's a skill I don't personally possess. <cough> I first encountered Amy Dupire's work some years ago, in the course of judging entries for the Surrey International Writers Conference Storyteller's Award. (The Surrey conference is the only writers conference I attend every year— this year will be my 22nd.)
The Storyteller's prize is supported by me and my good friend (and wonderful historical novelist) Jack Whyte. All the entries are screened by the conference organizers, and Jack and I judge the dozen or so finalists, which are all sent to us as blind manuscripts— i.e., no author's name attached. So it isn't until the banquet at which all the writing awards are announced that we find out who actually wrote the winning story.
!—and the…
Well, for several years, Amy's stories were either the winner or the runner-
up, and I got used to hearing her name read out during the banquet.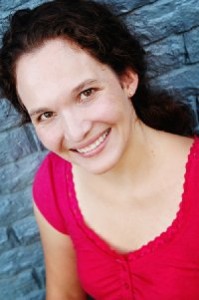 Which in turn led to an interest in what else she might be writing… and ultimately to the welcome publication of god-thing her first collection (her first novel, ALL KINDS OF HELL, is due out later this month). At right, image of Amy Dupire.
The stories here are written with delicacy, humor, and a healthy dose of uneasiness. And they are… well, you know… short. <g> Whether you're in need of a literary appetizer or dessert, immersion or distraction— you might just find what you're looking for in this collection of "Weird and Worrisome Tales."
See Amy Dupire's books on Amazon.com. (The Kindle version of god-thing is reportedly available free for KindleUnlimited subscribers.)
-Diana
Return to the Methodone List Main Page.
---
This page was last updated on Monday, January 13, 2023 at 10:15 a.m. (Central Time). Amy Dupire's website (www.amydupire.com) is apparently no longer active and the link to it was removed.