---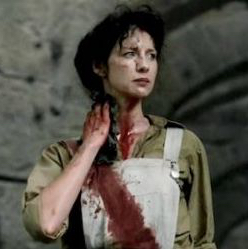 In the Outlander novels, Claire Beauchamp Randall Fraser was forced to leave the more advanced medical treatments of World War II and the 1960s behind when she travelled back and forth in time to the 1700s. As a resourceful doctor, she was able to carry her knowledge and skills back in time, and found ways to put them to use as much as possible.
If you were a wounded soldier in the American Revolutionary War in the late 1700s with no one like Claire about, what kind of treatment was available?
The late 1700s was a time when doctors did not understand the importance of sterilization, and surgery knowledge and techniques were very primitive. For severe wounds from musket balls or blades in arms and legs, amputation was the usual treatment. Worse, the bone saws and other implements were used in on multiple patients without washing and sterilizing them between surgeries. Anesthesia was likewise primitive, consisting of pain relievers such as opium and alcohol, and were often not available in the field. Patients were given something to bite on, such as a stick or leather strap, then multiple people held them down during the surgery.
After the agony of having a limb cut and sawed off—or abdominal surgery— performed with little or no pain relief, you likely had only a one in three chance of survival. Shock was the normal reaction, then there was blood loss and infection, all deadly.
Even worse, if you were lucky enough to survive the surgery, shock, and infection, a doctor might open a blood vessel in your arm and "bleed" you, thinking that would be of help. (Being a quart low is not a Good Thing for a trauma patient.)
Heartbreaking and grim, no matter how one looks at it. As medicine and surgery have improved, unfortunately human weapons have become ever more sadistic, destructive and deadly. Soldiers still suffer terribly from battle wounds around the globe.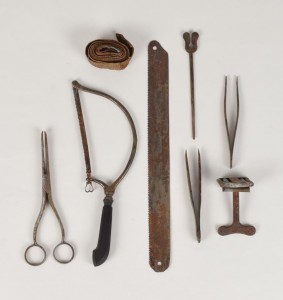 Going back to the past, what did the instruments look like that were used on wounded soldiers in the late 1700s? Some surviving examples are shown in the image at right. Yes, those are saw blades, small ones to sever arm bones and larger ones for cutting through larger leg bones.
In July, 2017, two historic surgical and amputation kits like these in the image, examples of those used during the American Revolutionary War, sold at auction for more than $104,000.
The instruments were used by Dr. John Warren, a militia volunteer who became an Army surgeon during the American Revolution. After the loss of his older brother, Dr. Joseph Warren, a celebrated hero who died at the Battle of Bunker Hill, John left his private medical practice to help the wounded. Besides doing surgery, he was in charge of several military hospitals.
Surgical instruments used during the Revolutionary War were usually the personal property of the doctors, as the Continental Army normally did not provide them. In fact, the army was often short on most supplies, so doctors had to improvise and do with what they had.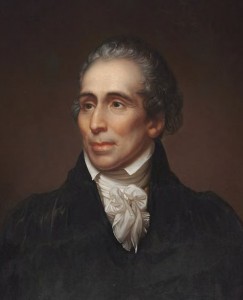 As described in the auction, Dr. Warren's first kit was carried in worn shark or ray skin material and included a pair of small bullet forceps with scissor handles, used to extract metal bullets from tissue; a blade for an amputation saw; a grooved director commonly used as a knife guide; tweezer forceps; a metacarpal bone saw; and a Petit-style tourniquet used to stave off blood loss during amputations.
The second kit's chest was crafted out of mahogany and contained an amputation saw, a curved amputation knife, a set of surgical scissors and tissues forceps that were used to stabilize soft tissue. Nailed to the front of the kit was a handwritten identification label that reads, "Used during the Revolutionary War by Dr. John Warren."
The instruments in the kits show evidence of heavy use. It is so difficult to imagine the agony that the wounded went through, hoping to survive.
After the war, Dr. Warren delivered private courses of anatomical lectures on human dissection to colleagues. A year later, Harvard College students began attending his lectures. This led to the president of Harvard asking Dr. Warren to create a plan of medical study. On November 22, 1782, Dr. John Warren became the first faculty member of the new Harvard medical institution, as a professor of anatomy and surgery. He performed one of the first abdominal operations in this country and was known for his amputations of the shoulder joint.
These two surgical amputation kits were in the collection of Harvard University until they were sold in 2017.
On this Memorial Day in 2022, we need to remember all who sacrificed and suffered from the hazards of battle in every time period throughout human history who bravely fought for what they believed in.
References and More Information:
"JOHN WARREN (1753-1815)," Center for the History of Medicine at Countway Library, Harvard University. Retrieved on May 30, 2022.
"Founding a Medical School," Center for the History of Medicine at Countway Library, Harvard University. Retrieved on May 30, 2022.
"John Warren (surgeon)," article in Wikipedia which describes Dr. Warren's life. The portrait of Dr. John Warren in this article was provided by Wikipedia. Retrieved on May 30, 2022.
"Joseph Warren," an article in Wikipedia which describes the life of Dr. Warren, a noted Revolutionary War hero and patriot who died at the Battle of Bunker Hill. He was John Warren's older brother. Retrieved on May 30, 2022.
Revolutionary War amputation kits auctioned for $104,000, by Olivia Gibson, CNN. Posted on Friday, July 14, 2017. Retrieved on Monday, May 30, 2022.
"The Revolutionary War Amputation Kits of Dr. John Warren, by Just Collecting News Staff. Posted on June 28, 2017. Retrieved on Monday, May 30, 2022.
"Surgeons and Butchers," by Elizabeth Rorke, for the Brandywine Historical Battlefield website. Describes treatments available for the wounded during the American Revolutionary War in the late 1700s. Retrieved on Monday, May 30, 2022.
---
Image of Claire, portrayed by Caitriona Balfe, is courtesy of Starz, from the Outlander TV series.
---
This webpage was last updated on Monday, May 30, 2022, at 4:30 p.m. by Diana Gabaldon or Diana's Webmistress.