---
---
Season 7 Premiered on June 16, 2023!
June 16, 2023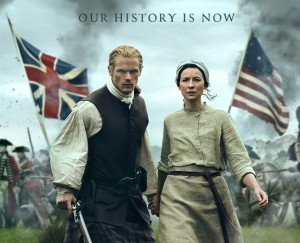 "In order to protect what they've built, the Frasers have to navigate the Revolutionary War. They learn that sometimes to defend what you love, you have to leave it behind."
The first episode of Season 7 of Outlander is now available from Starz in the U.S.A. through streaming online, the Starz app, or the Starz cable network.
The new season is also available on cable networks and streaming services around the world.
Click for more information from my blog… including a photo of me and the cast at the Tribeca Film Festival!
---
Seasons 7 & 8… and a Prequel!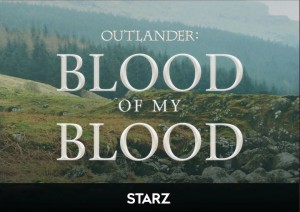 So…. we got news!
OUTLANDER, SEASON 8 is greenlit!
and,
so is the OUTLANDER PREQUEL (BLOOD OF MY BLOOD)!
Let there be rejoicing!!!
Read more in my January 19, 2023 blog entry.
---
"A Fugitive Green" – Standalone Ebook and Audiobook!
July 28, 2022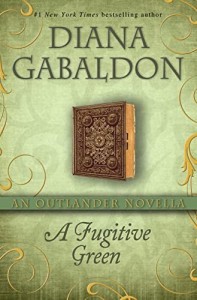 I wrote "A Fugitive Green" for inclusion in the collection of my short(er) fiction titled SEVEN STONES TO STAND OR FALL, first published in 2017.
Now some of the novellas from that collection are being released as standalone e-books, starting with this one, which…
IS NOW AVAILABLE AS A STANDALONE E-BOOK in Kindle, Nook and Apple's iBookstore formats. Also as a (wonderful!) audiobook, narrated by the fabulous Jeff Woodman.
Click here to visit my webpage for "A Fugitive Green." Buy links are available to purchase this ebook or audio version via pull-down menus there.
---
"Uncle William" – From Book Ten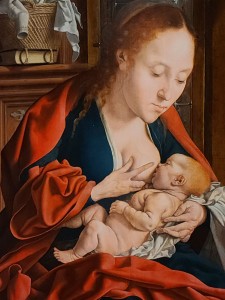 On July 16, 2022, I released a new excerpt (aka "Daily Lines") from Book Ten in my Outlander series of novels:
A piercing scream stopped Brianna in mid-word. At once, she detached the infant from her person and pushed him into William's arms.
"Here," she said, and disappeared in a rustle of skirts. He heard her footsteps, irregular thuds suggesting that she was taking the porch stairs two or three at a time, and then her distant voice inside the house, upraised in adjuration. He looked down at the warm bundle, and carefully readjusted it so that the child rested—face up—in the crook of his elbow. Read more…
---
Thank You, University of Glasgow!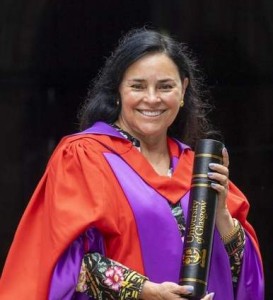 July 11, 2022
MANY thanks to the University of Glasgow for so kindly awarding me an honorary Doctor of Letters degree at their Commencement ceremonies on June 28!
It was a wonderful occasion, and great to become a small part of such an ancient and estimable academic community.
-Diana
Read my blog entry about this award.
---
In Honor of Memorial Day 2022 – "Two Warriors"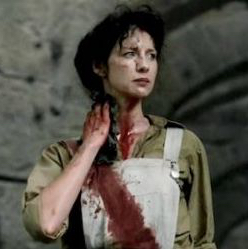 In honor of Memorial Day (Sunday, May 29, 2022), a blog post that includes an excerpt from WRITTEN IN MY OWN HEART'S BLOOD, titled "Two Warriors:"
THE FIRST SHOT took them by surprise, a muffled boom from the cider orchard and a slow roll of white smoke. They didn't run, but they stiffened, looking to him for direction. Jamie said to those near him, "Good lads," then raised his voice. Read more.
---
"Like Your Mother" & Happy Birthday, Jamie!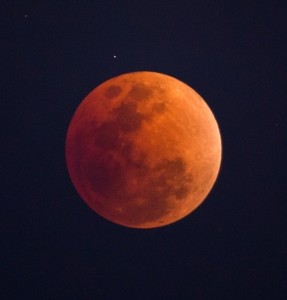 On Jamie's birthday—May 1, 2022—I posted "Like Your Mother," a new excerpt from (Untitled) Book Ten of my Outlander novels:
"Did your Mam ever tell ye of the dream I had? Soon after ye… went away." He couldn't help glancing over his shoulder, to be sure no one was in earshot.
"No." She was looking at him with deep interest, a small line between her brows, and he couldn't help smiling at her. "Was it a funny dream?" she asked. Read more.
---
"Milk and Baby-Shit" – Book Ten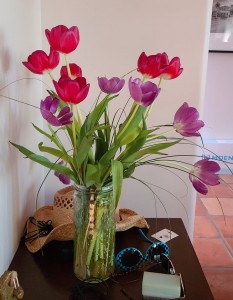 On March 17, 2022, I posted "Milk and Baby-Shit," a new excerpt from (Untitled) Book Ten of my Outlander novels:
The room was large and dim; someone had tacked part of a burlap sack over the large window, but light filtered through. So did a breeze carrying the earthy smell of fresh potatoes through the burlap. He picked loose a couple of tacks and the breeze, thus invited, cooled his face and rippled through his hair, like the touch of gentle fingers.
"Mother?" he said softly. Read more.
---
Season 6 Premiere
Sunday, March 6, 2022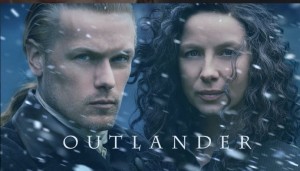 The long-awaited premiere of Outlander Season Six is today, March 6, at 9:00 p.m. (Eastern Time) in the U.S.A. on the Starz cable network.
I consider this a good omen, because I began writing OUTLANDER on March 6, 1988. So I have great expectations for this season.
This season will focus on the events in A BREATH OF SNOW AND ASHES, the sixth major novel in my Outlander series which focuses on Jamie and Claire.
The new season kicks off with a special 90-minute episode, and will pick up not long after events in the Season Five finale, which as you may remember were kind of traumatic. I think Season Six is the best season yet since Season One, which was very special because it was the first. As to what you'll see, I leave you with three words:
Christie, Amoeba, and Brown.
---
More Information on Season 6
March 6, 2022
Click here to view the interview I did recently for Oprah Daily (not the Big O herself, but the daily online magazine). I discuss Season 6 as well as other topics.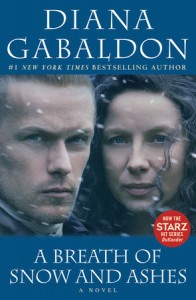 To view the gorgeous official Season 6 trailer from Starz on Youtube, click here.
More information and access to past episodes are available on the official Starz Outlander website. The Starz network produces the Outlander series.
The Starz tie-in e-book edition of A BREATH OF SNOW AND ASHES is now available for Apple devices, Kindle, Nook, etc. in the U.S.A. and other international publishing areas. Click here for more information from Penguin Random House.
---
Very First Excerpt From Book Ten!
February 10, 2022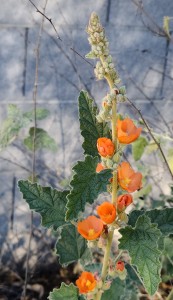 If you have finished reading BEES, check out my first excerpt (aka "Daily Lines") from Book Ten:
Again, this excerpt may contain SPOILERS for those who have not read BEES yet!
Book Ten (which doesn't have a title yet) will be the tenth in my Outlander series of major novels which focus on Jamie and Claire.
Click here to visit my Book Ten webpage for more information.
---
Interview with Diana on Good Morning America!
Monday, November 22, 2021
"This book [BEES] is shaped like a snake," said Diana in an interview on Good Morning America. And she saids it "starts from the tail."
See the replay of this GMA interview with Diana at:
https://www.goodmorningamerica.com/culture/video/author-diana-gabaldon-talks-outlander-book-81323960
GO TELL THE BEES THAT I AM GONE will be released tomorrow on Tuesday, November 23, 2021 and available from your local bookstores or online. It is the ninth book in her OUTLANDER series of major novels featuring Jamie and Claire.
---
Diana Interviewed By The New York Times
November 18, 2021
Read "Diana Gabaldon Avoids Books Where Bad Things Happen to Children," an interview by the New York Times at;
https://www.nytimes.com/2021/11/18/books/review/diana-gabaldon-by-the-book-interview.html
She discusses what she likes to read and other book-related topics.
---
Congratulations, Caitriona!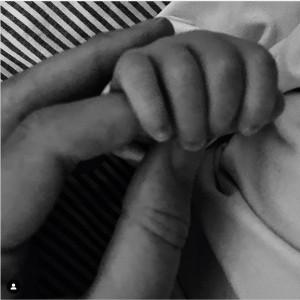 August 21, 2021
HUGE congratulations to Caitriona and her husband Tony on the birth of their lovely little boy! (Said little boy, along with Covid, is one of the reasons why Season Six of OUTLANDER has eight episodes, rather than the originally planned twelve—don't worry, though, the last four episodes are not lost; they'll just be pushed forward into Season Seven (which–God willing and everybody's not down with the Zeta variant or something–will start filming early in 2022) which will end up with sixteen episodes!)
Caitriona posted the image at right on her official Instagram account after the baby's birth, according to an online article in Parade magazine on August 19, 2021.
---
Happy Flag Day!
June 14, 2021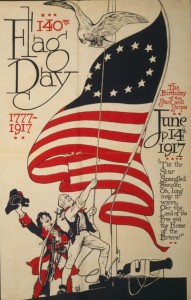 A Happy Flag Day to all! (I don't seem to have any notable flag scenes in BEES, but one is at least mentioned here [in a new excerpt]…)
Social Media Hashtags: #DailyLines, #GoTELLTheBEESThatIAmGONE, #pubdatenovember23rd, #minorspoilerspossible
"My name is Roger MacKenzie. I'm a Presbyterian minister, and I've brought a letter to General Lincoln from General James Fraser, late of General Washington's Monmouth command."
Sergeant Bradford's brows rose out of sight beneath his hat.
---
Publication Date for BEES (Book 9)!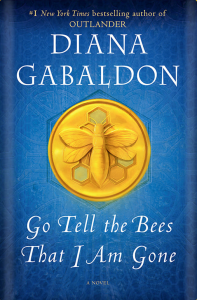 April 15, 2021
I'm honestly and truly THRILLED to announce that We. Have. A. PUB DATE!! for BEES! As announced in an exclusive Entertainment Weekly article, the BEES publication date is…
November 23, 2021 in the U.S.A. and the U.K.!
So looking forward to sharing this book with you all!
The cover art for the hardcover release of BEES in the U.S.A., published by Penguin Random House, is shown at right.
Visit my GO TELL THE BEES THAT I AM GONE webpage for links to pre-order and reserve your copy of BEES, if you wish, and to read excerpts (samples) from my new novel.
---
I've Finished Writing Bees! Now The Publishing Process…
Wednesday, March 27, 2021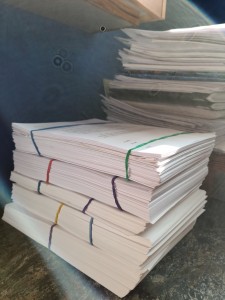 I've finished writing GO TELL THE BEES THAT I AM GONE! Now this new book enters the publication process, outlined below, which will likely take months (a guesstimate only).
Click here to read about the publication process, "What Finished Means To An Author."
Please keep in mind that I do not set the publication date, the day when you can buy the book at a bookstore. That date will be decided by my publishers. Stay tuned!
Thanks!
---
Season 7 of the Outlander TV Series Approved!
March 14, 2021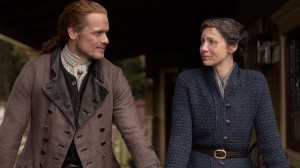 Exciting news! Starz announced on Sunday, March 14, 2021, that it has officially approved funding and plans for season 7 of the Outlander tv series. Based on AN ECHO IN THE BONE, the seventh in Diana's bestselling OUTLANDER series of major novels, season 7 will have a total of 12 episodes. Image at right courtesy of STARZ.
Series stars Caitriona Balfe, Sam Heughan, Sophie Skelton, and Richard Rankin shared the news in a new video announcement. Click here to view the video on Youtube, which will open in a new browser window.
Actors Caitriona Balfe (Claire Randall Fraser), Sam Heughan (Jamie Fraser), Sophie Skelton (Brianna Randall) and Richard Rankin (Roger Wakefield), who are currently filming the sixth season of the series in Scotland, will return for the seventh season.
As of yet, there is no premiere date set for season 6.
Ronald Moore, executive producer of the series, has also said in interviews that an Outlander spin-off television series may be in the works! More Outlander TV Series News…
---
Avalon River Cruise Rescheduled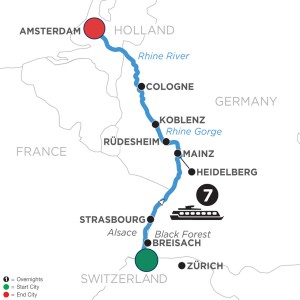 March 13, 2021
The Avalon River Cruise on the Rhine River (for which I am the featured author) has been rescheduled from April to October of this year due to the continuing COVID-19 pandemic. The week-long cruise will now begin on Saturday, October 30, 2021.
Please see my appearances webpage for more information. As of early March, there are still spaces available.
If you are signed up for the cruise, please contact Avalon for details.
---
Season 6 is Filming!
Friday, February 12, 2021
I figured everybody already knew this, but Sony just sent me assets (aka photos) to announce the beginning of filming on Season 6!
---
"Horse Drills" – New Excerpt from BEES
Monday, February 8, 2021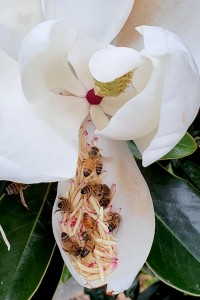 [ . . . ] had volunteered to rise early—very early—and make the gallons of brose and parritch to feed the militia. The warm, creamy smell crept up the stairs and eased me into wakefulness like a soft hand on my cheek. I stretched luxuriously in the warm bed and rolled over, enjoying the picture of Jamie, long-legged as a stork and stark naked, bent over the washstand to peer into the looking-glass as he shaved by candlelight. Dawn was no more yet than a fading of the stars outside the dark window.
"Getting all spruced up for the gang?" I asked. "Are you doing something formal with them this morning?" Read more…
---
"Beetles" – New Excerpt from BEES
Monday, February 1, 2021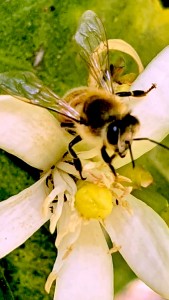 William found Moira, the cook, in the kitchen garden, pulling spring onions. She was talking to Amaranthus, who had evidently been gathering as well; she carried a trug that held a large mound of grapes and a few pears from the small tree that grew near the cook-house. With an eye for the fruit, he strode up and bade the women good morning. Amaranthus gave him an up and down glance, inhaled as though trying to judge his state of intoxication from his aroma, and with a faint shake of the head, handed him a ripe pear.
"Coffee?" he said hopefully to Moira. Read more…
---
---
This News webpage lists selected news from the past few months about Diana's books, writing, the Outlander TV series, and other projects posted here on her website. Some posts and text that Diana originally posted on her official social media accounts are also included, as well as new excerpts (aka "Daily Lines") from works in progress as well as special passages from her books and stories in print.
Items are more or less arranged by date, with newer ones listed first.
All text written in first person are Diana Gabaldon's words. Third-person descriptive text is usually written by Diana's Webmistress, who helps maintain Diana's website.
This page was last updated on Friday, June 16, 2023 at 4:00 p.m. (Central Time) by Diana Gabaldon or Diana's Webmistress.