---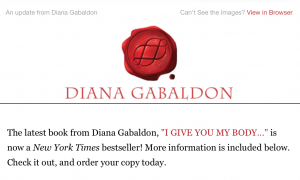 Would you like to receive periodic Outlandish Updates from me by e-mail, including the latest information about new Outlander and Lord John releases?
Sign up to receive my free e-newsletters, distributed by Random House, my primary publisher in the U.S.A.!
How To Sign Up
To sign up, click on the link below:
http://www.randomhousebooks.com/books/author/9526/
Scroll down the Random House webpage to "Sign up for emails from Diana Gabaldon"
Type in your email address, then click the Submit button.
You will receive an email from me about once a month; these e-newsletters include announcements about new releases, planned publication dates, and convenient purchasing links from your favorite booksellers!
---
Past Issues
Previous issues of my e-newsletters will be listed here in the future, for your convenience (in PDF format).
---
Top image: sample heading of an issue of my Outlander e-newsletter.
This webpage was last updated on Monday, October 24, 2016 at 8:03 p.m. (Pacific Time) by Diana's Webmistress.