---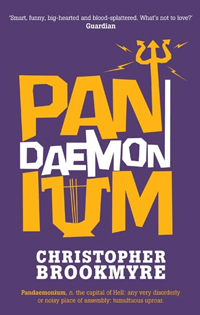 I seldom write fan letters to other authors. Not that I don't want to; there are lots of wonderful books that move me to admiration, laughter, tears, etc., and I'd love to let the authors of them know that. In some cases, the authors in question are dead, though, which kind of renders a fan letter moot (though I do Say a Word during my evening rosary—that was my Lenten devotion this year, saying the rosary every night (provided I don't fall asleep in the middle; lovely, peaceful meditation)). In most cases, though, I just don't get around to it. You know, busy life, obligations, family, dogs, book-tours, saying the rosary [g], answering the nice messages people send me, etc., etc.
Which is why I particular appreciate the letters and emails people send me; I know just how much effort it takes to actually do something like that, rather than just think about it. So it's all the more remarkable that upon reading Christopher Brookmyre's PANDAEMONIUM recently, I put down the book and actually wrote him a fan letter. Which said:
Dear Christopher–
I've just finished wallowing in PANDAEMONIUM, pausing occasionally to gasp with admiration at your sheer technical brilliance (we'll take the tremendous energy, amazing ear for dialogue and eye for social dynamics, and your talent for chronic hilarity (ranging from subtle to belly-laugh) as read). All of which is nothing to my enjoyment of the way your mind works. [g] I couldn't have done a clearer explanation of just what science is (and how it works) myself–and I do it frequently, what with the appalling state of prevalent ignorance and the many practitioners thereof. And the sheer bloody brilliance, not only of the concept, but the ending…!
I've been enjoying your books for years, and you've been getting better and better,  juggling the ideas so deftly with the satire and the plot (speaking of juggling, I adore your magician from THE SACRED ART OF STEALING and SNOWBALL IN HELL, too). This one is Just Great. Thanks so much.
–Diana
So anyway, still in the grip of this unaccustomed burst of energy [g], I thought I'd mention Chris as the latest recommendation on The Methadone List, and an excellent one he is, too—not only for the quality of his books, but the quantity as well; he produces something close to a book a year (a feat which excites my envious admiration).
Brookmyre's books are all violent, bloody, and absolutely hilarious. They're not a series; some of the books feature a recurring main character, the journalist Jack Parlabane, two of them have a wonderful, emotionally vulnerable, light-fingered magician as the hero (I fell in love with him, and I have high standards in that department [cough]), and some are one-off standalones. ALL of them are wonderfully plotted, deeply satirical, and done with a distinctly Scottish sense of humor.
The only real drawback to Brookmyre's books is that they aren't all published yet in the US (US publishers in these parlous times fight shy of anything offbeat, like stories written with Scots vernacular—but I sort of don't think that would be a problem for most of you guys [g]). Still, Amazon.com does have all of them for sale at least in paperback, though I'm displeased to note that they only have PANDAEMONIUM listed in the Kindle edition at this time. (I bought mine in hardcover—I grab Brookmyre on sight—from The Poisoned Pen in Scottsdale; they import a lot of British authors, and routinely carry all of Brookmyre's books. If you'd like a hard copy (undeniably expensive, but worth it), Click here.) I'm sure you could get them all from amazon.co.uk, but then there's the shipping to pay, so it's pretty much a wash.
Hope you enjoy him as much as I have!
(And here's his website, too, which has brief excerpts from some of his books: http://www.brookmyre.co.uk.)
-Diana