---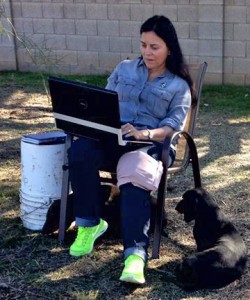 As of September, 2015:
Diana is currently working on the ninth book (as yet untitled) in the major series of OUTLANDER novels. This includes doing extensive background research (historical and other, as needed), and writing the book. Click here to access the Book Nine homepage which has up-to-date news, and also links to excerpts (or "sneak peeks")from this new work. Note that it takes at least 2-3 years to complete each of her novels, at a minimum. And no, she doesn't know yet when she is going to finish it…
Diana contributes to the popular Starz Outlander TV series. She has written the script for an episode of season two, and also serves as a co-producer.
Periodically, Diana works on short pieces of fiction or non-fiction, such as short stories or novellas for multi-author anthologies, or other items such as her forthcoming ebook titled HOW TO (AND HOW _NOT_ TO) WRITE SEX-SCENES, created for for aspiring authors.
Diana does public appearances and book signings, meeting with readers around the globe.
And of course, she spends some of her time at home with her husband, family and friends!
At upper right: Diana working outdoors in her yard with one of her dogs.
Check out Diana's Chronology of the Outlander Series to see how her books and short stories weave and interconnect through time.
Future Books
In her plans for future books, Diana has said she will also write an Outlander Prequel, and a contemporary mystery novel based in Phoenix, Arizona. There is also an eventual volume three of THE OUTLANDISH COMPANION.
And keep in mind that she may explore the lives of other time travelers in the OUTLANDER series in future works… plus other surprises!
---
This page was last updated on Monday, September 7, 2015 at 2:54 a.m. (PT)