---
Outlander Season 7 – Approved by Starz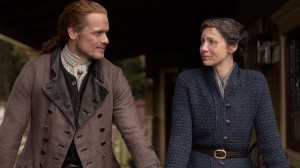 Exciting news! Starz announced on Sunday, March 14, 2021, that it has officially approved funding and plans for season 7 of the Outlander tv series. Based on AN ECHO IN THE BONE, the seventh in Diana's bestselling OUTLANDER series of major novels, season 7 of the Starz tv series will have a total of 12 episodes.
Production of season 7 will begin some time after filming and production of season 6 is completed.
Series stars Caitriona Balfe, Sam Heughan, Sophie Skelton, and Richard Rankin shared the season 7 news in a new Starz video announcement; click here to view on Youtube.
Actors Caitriona Balfe (Claire Randall Fraser), Sam Heughan (Jamie Fraser), Sophie Skelton (Brianna Randall) and Richard Rankin (Roger Wakefield), who are currently filming the sixth season of the series in Scotland, announced that they will return for the seventh season.
Ronald Moore, executive producer of the series, has also said in interviews that an Outlander spin-off television series may be in the works!
See my Outlander TV Series News page…
---
Outlander Season 6 Debuted on March 6, 2022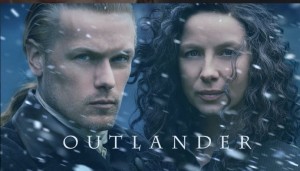 The long-awaited premiere of Outlander Season Six was on Sunday, March 6, 2022 at 9:00 p.m. (Eastern Time) in the U.S.A. on the Starz cable network.
I consider this a good omen, because I began writing OUTLANDER on March 6, 1988. So I have great expectations for this season.
This season will focus on the events in A BREATH OF SNOW AND ASHES, the sixth major novel in my Outlander series which focuses on Jamie and Claire.
The new season kicks off with a special 90-minute episode, and will pick up not long after events in the Season Five finale, which as you may remember were kind of traumatic. I think Season Six is the best season yet since Season One, which was very special because it was the first. As to what you'll see, I leave you with three words:
Christie, Amoeba, and Brown.
---
More Information on Season 6
Click here to view the interview I did recently for Oprah Daily (not the Big O herself, but the daily online magazine). I discuss Season 6 as well as other topics.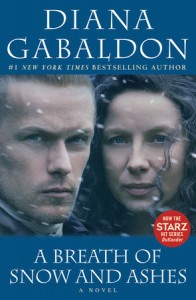 To view the gorgeous official Season 6 trailer from Starz on Youtube, click here.
More information and access to past episodes are available on the official Starz Outlander website. The Starz network produces the Outlander series.
The Starz tie-in e-book edition of A BREATH OF SNOW AND ASHES is now available for Apple devices, Kindle, Nook, etc. in the U.S.A. and other international publishing areas. Click here for more information from Penguin Random House.
---
Outlander Season 5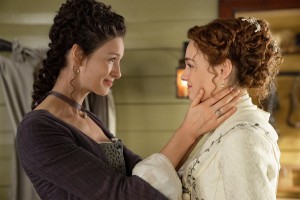 In Season 5, Jamie Fraser must fight to protect those he loves, as well as the home he has established alongside his wife, Claire Fraser, their family, and the settlers of Fraser's Ridge.
In the U.S.A., Outlander Season 5 first premiered on the STARZ cable network and streaming channel on Sunday, February 16, 2020. The first episode is titled, "The Fiery Cross,", and this season is mostly an adaptation of my book with the same name. Starz subscribers may watch all of the episodes online.
Season 5 then premiered on various cable and streaming services in other viewing areas around the world. In some areas, such as the U.K., it is called "Series 5" of Outlander, due to a difference in terms. (In the U.S.A., a "series" refers to all years of a television program, not just one year, or one "season".
Season 5 is also available on blu-ray, DVD, and digital download in the U.S.A. and many other areas. It is distributed by Sony.
---
Outlander TV Series News
Selected news, interviews and videos are listed on the TV series news page, as well as other information about the project that Outlander readers might enjoy. It will be updated regularly, as new information becomes available (and when Diana's Webmistress can get to it!). Also, check out the links below.
---
Links
Check Diana's Facebook page for her posts, photos and musings about the TV series. (You will need to create your own Facebook account to be able to view hers. This is Facebook's decision, to ensure viewers of the content are at least 18 years old.) Note that Diana's Webmistress is working to cross-post information from Diana's Facebook and Twitter accounts regularly for those who do not use social media. (Eventually the Webmistress hopes to catch up! <g>)
Outlander: A Starz Original Series, the Starz network's official home page for the Outlander TV series.
---
This page is maintained by Diana Herself and Loretta, Diana's Webmaster/Webmistress, and was last updated on Sunday, March 6, 2022 at 7:00 a.m. (Central Time).