---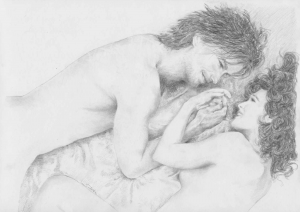 Where most beginning writers screw up (you should pardon the expression) is in thinking that sex scenes are about sex. A good sex scene is about the exchange of emotions, not bodily fluids. That being so, it can encompass any emotion whatever, from rage or desolation to exultation, tenderness, or surprise.
Lust is not an emotion; it's a one-dimensional hormonal response. Ergo, while you can mention lust in a sex-scene, describing it at any great length is like going on about the pattern of the wall-paper in the bedroom. Worth a quick glance, maybe, but essentially boring.
So how do you show the exchange of emotions? Dialogue, expression, or action—that's about the limit of your choices, and of those, dialogue is by far the most flexible and powerful tool a writer has. What people say reveals the essence of their character.
Example:
"I know once is enough to make it legal, but…" He paused shyly.
"You want to do it again?"
"Would ye mind verra much?"
I didn't laugh this time, either, but I felt my ribs creak under the strain.
"No," I said gravely. "I wouldn't mind."
Now, you do, of course, want to make the scene vivid and three-dimensional. You have an important advantage when dealing with sex, insofar as you can reasonably expect that most of your audience knows how it's done. Ergo, you can rely on this commonality of experience, and don't need more than brief references to create a mental picture.
You want to anchor the scene with physical details, but by and large, it's better to use sensual details, rather than overtly sexual ones. (Just read any scene that involves a man licking a woman's nipples and you'll see what I mean. Either the writer goes into ghastly contortions to avoid using the word "nipples"—"tender pink crests" comes vividly to mind—or does it in blunt and hideous detail, so that you can all but hear the slurping. This is Distracting. Don't Do That.)
So how do you make a scene vivid, but not revoltingly so? There's a little trick called the Rule of Three: if you use any three of the five senses, it will make the scene immediately three-dimensional. (Many people use only sight and sound. Include smell, taste, touch, and you're in business.)
Example from THE SCOTTISH PRISONER:
The road was narrow, and they jostled against one another now and then, blinded between the dark wood and the brilliance of the rising moon. He could hear Jamie's breath, or thought he could—it seemed part of the soft wind that touched his face. He could smell Jamie, smell the musk of his body, the dried sweat and dust in his clothes, and felt suddenly wolf-like and feral, longing changed to outright hunger.
He wanted.
In essence, a good sex scene is usually a dialogue scene with physical details.
Example From WRITTEN IN MY OWN HEART'S BLOOD:
"I'll give it to ye," he murmured, and his hand moved lightly. A touch. Another. "But ye'll take it from me tenderly, a nighean donn."
"I don't want tenderness, damn you!"
"I ken that well enough," he said, with a hint of grimness. "But it's what ye'll have, like it or not."
He laid me down on his kilt, and came back into me, strongly enough that I gave a small, high-pitched cry of relief.
"Ask me to your bed," he said. "I shall come to ye. For that matter—I shall come, whether ye ask it or no. But I am your man; I serve ye as I will."
And finally, you can use metaphor and lyricism to address the emotional atmosphere of an encounter directly. This is kind of advanced stuff, though.
Example From A BREATH OF SNOW AND ASHES:
He'd meant to be gentle. Very gentle. Had planned it with care, worrying each step of the long way home. She was broken; he must go canny, take his time. Be careful in gluing back her shattered bits.
And then he came to her and discovered that she wished no part of gentleness, of courting. She wished directness. Brevity and violence. If she was broken, she would slash him with her jagged edges, reckless as a drunkard with a shattered bottle.
She raked his back; he felt the scrape of broken nails, and thought dimly that was good—she'd fought. That was the last of his thought; his own fury took him then, rage and a lust that came on him like black thunder on a mountain, a cloud that hid all from him and him from all, so that kind familiarity was lost and he was alone, strange in darkness.
Like that.
---
Return to the I GIVE YOU MY BODY webpage…
---
Copyright © 2012, 2016 by Diana Gabaldon. All rights reserved. The text on this page also appeared in one of my blogs from July, 2012.
This page was last updated on Friday, September 7, 2018 at 12:30 a.m. (Pacific Time), by Diana's Webmistress.