---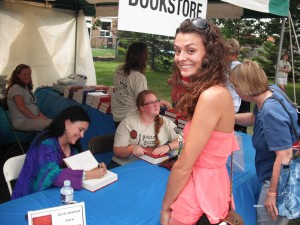 Fans and readers of my novels and short stories have done all kinds of amazing things since my first book, OUTLANDER, was published in 1991.
From fan websites dedicated to Jamie and Claire, to groups such as the Ladies of Lallybroch, this page (and its subpages) will explore some of my fabulous Outlander fans and readers and their work and play!
---
Cover-Art Gallery
As of 2021, my Outlander and Lord John books have been published in 114 countries and 38 languages, and each publisher around the globe uses unique cover art.
At right is an image of cover art from an edition of OUTLANDER that was sold in Brazil.
Carmen, a reader who lives in Germany, has lovingly assembled and maintained a huge, beautiful collection of Outlander series cover art for over twenty years. It's fascinating to browse, and very easy to get lost in for hours. See what the cover of OUTLANDER and my other novels look like that are sold in many different countries and languages!
Visit Carmen's cover-art gallery of my books from around the world.
---
More From Fans
Some interesting and dedicated Outlander fans and their work are on these subpages:
---
More to come! My From Fans webpages are under construction and lots more will be added. Please bookmark this page and check back…
---
This page was last updated on Monday, April 19, 2021, at 11:00 p.m. (Central Daylight Time) by Diana Gabaldon or Diana's Webmistress.