---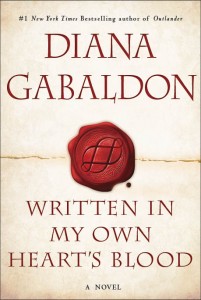 "You said you were afraid," I said quietly, eyes on the spools of coarse thread and twists of silk floss I was stowing in a wooden box. "But that won't stop you doing what you think you have to do, will it? _I'm_ afraid _for_ you—and that certainly won't stop you, either." I was careful to speak without bitterness, but he was as sensitive to tones of voice this morning as I was.
He paused for a moment, looking down at his shining shoe-buckles, then lifted his head and looked at me straight.
"Do ye think that because ye've told me the rebels will win, that I am free to walk away?"
"I—no." I slid the box-lid shut with a snick, not looking at it. I couldn't look away from him. His face was still, but his eyes held mine, intent. "I know you have to. I know it's part of what you are. You can't stand aside and still be what you are. That was more or less my point, when I–."
He interrupted me, stepping forward and seizing me by the wrist.
"And what is it that ye think I am, Sassenach?"
"A bloody _man_, that's what!" I pulled loose and turned away, but he put a hand on my shoulder and turned me back to face him.
"Aye, I _am_ a bloody man," he said, and the faintest trace of rue touched his mouth, but his eyes were blue and steady.
"Ye've made your peace with what I am, ye think–but I think ye dinna ken what that means. To be what I am doesna mean only that I'll spill my own blood when I must. It means I must sacrifice other men to the ends of my own cause–not only those I kill as enemies, but those I hold as friends…or as kin."
His hand dropped away, and the tension left his shoulders. He turned toward the door, saying, "Come when ye're ready, Sassenach."
---
This excerpt is from WRITTEN IN MY OWN HEART'S BLOOD. It was posted on September 4, 2013.