---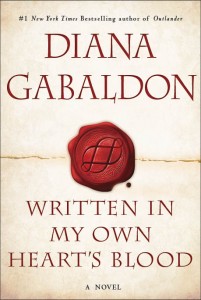 "Oh." Mildly flustered, he bowed to me. "I beg pardon. Captain Jared Leckie, your servant, ma'am. I am a surgeon with the 14th Pennsylvania."
He eyed me consideringly, clearly wondering who the devil _I_ was. I was wearing a canvas apron with capacious pockets over my gown, these pockets presently stuffed with all manner of small instruments, dressings, bottles and jars of ointments and liquids. I'd also taken off my broad-brimmed hat when I came into the tent, and was not wearing a cap. I _had_ bound up my hair, but it had come loose and was coiling damply round my ears. He obviously suspected me of being a laundress, come to collect soiled linen—or possibly something worse.
"I am Mrs. Fraser," I said, drawing myself up with what I hoped was a gracious nod. "Er… Mrs. _General_ Fraser, that is," I added, seeing that he appeared unimpressed.
His eyebrows shot up, and he looked me openly up and down, his eyes lingering on the top pockets of my apron, these featuring an unwieldy rolled dressing in the act of coming unrolled and trailing down my front, and a jar of asafoetida, whose cork was loose, thus allowing the reek of it to waft gently above the other notable smells of the camp. It was known commonly as "devil's dung," and for good reason. I pulled the jar out and pushed the cork in more securely. This gesture seemed somehow to reassure him.
"Oh! The general is a physician, I perceive," he said.
"No," I said, beginning to see that I should have uphill work with Captain Leckie, who appeared young and not overbright. "My husband is a soldier. _I_ am a physician."
He stared at me as though I'd told him I was a prostitute. Then he made the mistake of assuming that I was joking and laughed heartily.
---
This excerpt is from WRITTEN IN MY OWN HEART'S BLOOD. It was posted on August 27, 2013.