---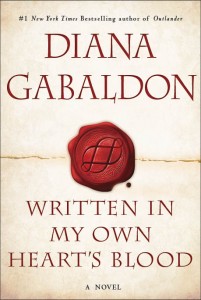 In the woods, an hour's ride outside Philadelphia.
John Grey had been quite resigned to dying. Had expected it from the moment that he'd blurted out, "I have had carnal knowledge of your wife." The only question in his mind had been whether Fraser would shoot him, stab him, or eviscerate him with his bare hands.
To have the injured husband regard him calmly, and say merely, "Oh? Why?" was not merely unexpected, but…infamous. Absolutely infamous.
"Why?" John Grey repeated, incredulous. "Did you say '_Why_'?"
"I did. And I should appreciate an answer."
Now that Grey had both eyes open, he could see that Fraser's outward calm was not quite so impervious as he'd first supposed. There was a pulse beating in Fraser's temple, and he'd shifted his weight a little, like a man might do in the vicinity of a tavern brawl, not quite ready to commit violence, but readying himself to meet it. Perversely, Grey found this sight steadying.
"What do you bloody _mean_, 'why'?" he said, suddenly irritated. "And why aren't you fucking dead?"
"I often wonder that myself," Fraser replied politely. "I take it ye thought I was?"
"Yes, and so did your wife! Do you have the faintest idea what the knowledge of your death _did_ to her?"
The dark blue eyes narrowed just a trifle.
"Are ye implying that the news of my death deranged her to such an extent that she lost her reason and took ye to her bed by force? Because," he went on, neatly cutting off Grey's heated reply, "unless I've been seriously misled regarding your own nature, it would take substantial force to compel ye to any such action. Or am I wrong?"
The eyes stayed narrow. Grey stared back at them. Then he closed his own eyes briefly and rubbed both hands hard over his face, like a man waking from nightmare. He dropped his hands and opened his eyes again.
"You are not misled," he said, through clenched teeth. "And you _are_ wrong."
Fraser's ruddy eyebrows shot up–in genuine astonishment, he thought.
"Ye went to her because—from _desire_?" His voice rose, too. "And she let ye? I dinna believe it."
The color was creeping up Fraser's tanned neck, vivid as a climbing rose. Grey had seen that happen before, and decided recklessly that the best–the only–defense was to lose his own temper first. It was a relief.
"We thought you were _dead_, you bloody arsehole!" he said, furious. "Both of us! Dead! And we–we–took too much to drink one night–very much too much…we spoke of you…and… Damn you, neither one of us was making love to the other–we were fucking _you_!"
[end section]
---
This excerpt is from WRITTEN IN MY OWN HEART'S BLOOD.