---
Social Media Hashtags: #DailyLines, #HappyBirthdaytoClaire, #!!!
In honor of Claire Elizabeth Beauchamp Randall Fraser Randall Fraser Grey Fraser.
[Excerpt from GO TELL THE BEES THAT I AM GONE, Copyright © 2019 by Diana Gabaldon.]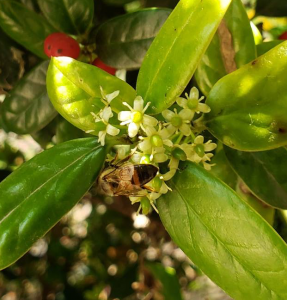 I listened with half an ear to Mandy's mingled endearments to Esmeralda and denunciations of her brother and Germain, but most of my attention was focused on what was going on in the clearing below.
I could hear Jem's voice, high and argumentative, and Roger's, firm and much lower, but couldn't pick out any words. Roger was talking, though, and I didn't hear any choking or coughing… that was good.
The memory of him bellowing at the children was even better. He'd done that before—it was a necessity, children and the great outdoors being what they respectively were—but I'd never heard him do it without his voice breaking, with a followup of coughing and throat-clearing. MacEwan had said that it was a small improvement, and that it took time for healing.
Had I actually done anything to help?
I looked critically at the palm of my hand, but it looked much as usual; a half-healed paper cut on the middle finger, stains from picking blackberries, and a burst blister on my thumb, from snatching a spider full of bacon that had caught fire out of the hearth without a rag. Not a sign of any blue light, certainly.
"Wassat, Grannie?" Amanda leaned off the table to look at my upturned hand.
"What's what? That black splotch? I think it's ink; I was writing up my case-book last night. Kirsty Wilson's rash." I'd thought at first the rash was just poison sumac, but it was hanging on in a rather worrying fashion… no fever, though… perhaps it was hives? Or some kind of atypical psoriasis?
"No, dat." Mandy poked a wet, chubby finger at the heel of my hand. "Issa letter!" She twisted her head half-round to look closer, black curls tickling across my arm. "Letter J!" she announced triumphantly. "J is for Jemmy! I hate Jemmy," she added, frowning.
"Er…" I said, completely nonplused. It was the letter "J." The scar had faded to a thin white line, but was still clear if the light struck right. The scar Jamie had given me, when I'd left him at Culloden. Left him to die, hurling myself through the stones to save his unborn, unknown child. Our child. And if I hadn't?
I looked at Mandy, blue-eyed and black-curled and perfect as a tiny spring apple. Heard Jem outside, now giggling with his father. It had cost us twenty years apart—years of heartbreak, pain and danger. It had been worth it.
"It's for Grand-da's name. J for Jamie," I said to Amanda, who nodded as though that made perfect sense, clutching a soggy Esmeralda to her chest. I touched her glowing cheek, and imagined for an instant that my fingers might be tinged with blue.
"Mandy," I said, on impulse. "What color is my hair?"
"When your hair is white, you'll come into your full power." An old Tuscarora wisewoman named Nayawenne had said that to me, years ago—along with a lot of other disturbing things.
Mandy stared intently at me for a moment, then said definitely, "Brindle."
"What? Where did you learn that word, for heaven's sake?"
"Uncle Joe. He says at's what color Badger is."
"Who's Badger?"
"Auntie Gail's doggie."
"Hmm," I said. "Not yet, then. All right, sweetheart, let's go and hang Esmeralda out to dry."
---
Click here to return to my official webpage for GO TELL THE BEES THAT I AM GONE which has more information about this book, and access to the more than fifty excerpts (aka "Daily Lines") that I have released.
---
Thank you to Loriann Cornwell for the lovely bee photo!
This excerpt is from GO TELL THE BEES THAT I AM GONE, Copyright © 2019 by Diana Gabaldon, the ninth book in my Outlander series of novels. All rights reserved.
If you wish to share this excerpt with others, please copy and paste this link (URL) below:
http://www.dianagabaldon.com/books/outlander-series/book-nine-outlander-series/theletterj/
Please do not copy the text from this excerpt (whole or in part) and paste it to share on personal or fan webpages, blogs, social media, in printed or digital documents, or anywhere else, publicly or privately. And please do not translate this excerpt into another language and publicly post, publish, or share it. Thanks!
-Diana
This excerpt (or "Daily Lines") was first posted on my official Facebook page on October 19, 2019.
This webpage was last updated on Thursday, December 5, 2019 at 10:55 a.m. (Pacific Time) by Diana Gabaldon or Diana's Webmistress.