---
Below is an excerpt from Book Nine of my OUTLANDER novels. Note that there are SPOILERS…
Facebook Hashtags:
#DailyLines, #BookNine, #WorkingPeacefullyThisWeek, #SoreFootButOK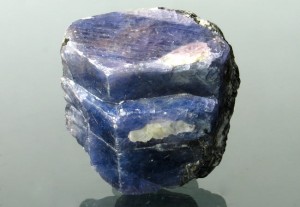 It was a sapphire, a raw one. A misty, cloudy blue little thing, half the size of his little finger's nail. He shook it free of its wrappings and it landed silently but solidly in the hollow of his hand.
"Ye said it maybe doesna matter whether it's cut or not," Buck said, nodding at it.
"I think not. I hope not. I wish I could say I can't take it." Roger closed his fingers gently on the little rock, as though it might burn him. "Thank you, a charaidh. Where did ye find it?"
"Ach…" Buck said vaguely, with a slight wave of his hand. "Just saw it and picked it up, ken?"
"Holy Lord," Roger said, squeezing the little pebble involuntarily. Too late, he remembered the castle in Strathpeffer, him talking with the factor about Jemmy and Rob Cameron—the earl being away from home—and Buck gone, disappeared with a handsome young housemaid. And the factor offering to show him Cromartie's collection of agates and rare stones… he'd declined, thank God. But—"
"You didn't," he said to Buck. "Tell me ye didn't."
"Ye keep saying that," Buck said, frowning at him. "I will, if ye want me to, but I shouldna think a minister ought to be encouraging folk to tell lies. A poor example for the bairns, aye?"
He nodded toward the stable-yard, where Jem was playing with a boy who had a hoop, the two of them trying to drive it with sticks over the bumpy ground, with a marked lack of success. Mandy was throwing pebbles at something in the dry grass—probably some hapless toad trying its best to hibernate against the odds.
"Me, a poor example? And you their own great-great-great-great-grandfather!"
"And should I not be lookin' out for their welfare, then? Is that what ye're sayin' to me?"
"I—" His throat closed suddenly and he cleared it, hard. The boys had left their hoop and were poking at whatever Mandy had found in the grass. "No. I'm not. But I didn't ask ye to steal for them. To risk your bloody neck for us!" That's my job, he wanted to say, but didn't.
"May as well be hanged for a sheep as a lamb." Buck gave him a direct stare. "Ye need it, aye? Take it, then." Something that wasn't quite a smile touched the edge of his mouth. "With my blessing."
On the far side of the yard, Mandy had picked up the hoop and put it about her solid little waist. She waggled her bottom, in a vain attempt at getting it to spin.
"Look, Daddy!" she called. "Hula hoop!"
Jem froze for a moment, then looked at Roger, his eyes big with concern. Roger shook his head slightly — don't say anything — and Jem swallowed visibly and turned his back to his sister, shoulders stiff.
"What's a hula hoop, then?" Buck asked quietly, behind him.
---
---
Originally posted on my Facebook page on January 19, 2016. About the #SoreFootButOK hashtag: Had minor surgery recently to remove a bone spur. It's doing fine; get the dressing off Wednesday! (So I can shower again….)
This page last updated on Tuesday, January 19, 2016 at 4:40 a.m. (PT) by my Webmistress.