---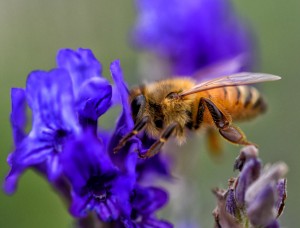 A Happy Flag Day to all! (I don't seem to have any notable flag scenes in BEES, but one is at least mentioned here…)
Social Media Hashtags: #DailyLines, #GoTELLTheBEESThatIAmGONE, #pubdatenovember23rd, #minorspoilerspossible
"My name is Roger MacKenzie. I'm a Presbyterian minister, and I've brought a letter to General Lincoln from General James Fraser, late of General Washington's Monmouth command."
Sergeant Bradford's brows rose out of sight beneath his hat.
"General Fraser," he said. "Monmouth? That the fellow that abandoned his troops to tend his wife?"
This was said with a derisive tone, and Roger felt the words like a blow to the stomach. Was this how Jamie's admittedly dramatic resignation of his commission was commonly perceived in the Continental Army? If so, his own present mission might be a little more delicate than he'd expected.
"General Fraser is my father-in-law, sir," Roger said, in a neutral voice. "An honorable man—and a very brave soldier."
The look of scorn didn't quite leave the man's face, but it moderated into a short nod, and the man turned away, jerking his chin in an indication that Roger might follow, if he felt so inclined.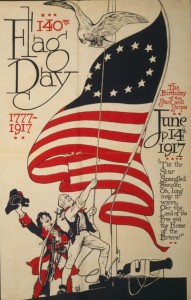 General Lincoln's tent was a large but well-worn green canvas, with a flagstaff outside from which the red and white stripes of the Grand Union flag fluttered in the wind off the sea.
Sergeant Bradford muttered something to the guard at the entrance, and left Roger with a curt nod.
"The Reverend MacKenzie, is it?" the guard said, looking him up and down with an air of skepticism. "And a letter from General James Fraser, have I got that right?"
Christ. Did Jamie know of the talk about him? Roger remembered the moment's hesitation when Jamie had handed him the letter. Perhaps he did, then.
"I am, it is, and you do," Roger said firmly. "Is General Lincoln able to receive me?"
[Excerpt from GO TELL THE BEES THAT I AM GONE, Copyright © 2021 by Diana Gabaldon.]
---
Visit my official BEES webpage for links to more than ninety excerpts from my new novel..
---
Image of the flag day poster from 1917 is from Wikipedia. Caption: 140th U.S. Flag Day poster. 1777-1917. The birthday of the stars and stripes is June 14th, 1917. 'Tis the Star Spangled Banner, oh, long may it wave, o'er the land of the free and the home of the brave! (Library of Congress)
And many thanks to Vikki Brush for the lovely bee photo! (Posted with permission.)
Please do not copy and paste the text in whole or in part from this excerpt and post or print it elsewhere, since it is copyrighted material. Ditto for all of my other excerpts, aka "Daily Lines.";
Thanks!
-Diana
---
This excerpt was also posted as blog entry on these webpages, and on my official Facebook page, both on Monday, June 14, 2021.