---
Social Media Hashtags: #DailyLines, #FirstSundayofAdvent, #2019
Today is the First Sunday of Advent. Advent is the period just before Christmas, when we turn inward in prayer or contemplation, seeking the Light that is within us, and awaiting the great Light to come.
[Excerpt from GO TELL THE BEES THAT I AM GONE, Copyright © 2019 by Diana Gabaldon.]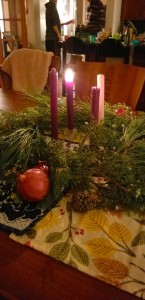 Rachel had explained the basic working of a Friends Meeting to the attendees—that one sat in silence, listening to one's inner light, unless or until the spirit moved you to say something—whether that was a worry you wished to share, a prayer you wanted to make, a song to sing, or a thought you might want to discuss.
She'd added that while many meetings both began and ended in silence, she felt moved of the spirit to begin today's meeting by singing, and while she did not pretend to do so with the skill of Friend Walter Cunningham or Friend Roger, (the MacKenzies had come, of course, but the Cunninghams had not, which didn't surprise me), if anyone wished to join her, she would be grateful for their company.
A good deal of warmth having been enkindled by the song—and Bluebell's contribution—everyone had sat quietly for a few minutes. I'd felt Jamie, beside me, draw himself up a little, as though having made a decision, and he'd told the congregation about Sylvia Hardman, a Quaker woman he'd met by chance at her house near Philadelphia, and who had cared for him for several days, his back having chosen to incapacitate him.
"Besides her great kindness," he said, "I was taken by her wee daughters. They were as kind as their mother—but it was their names I liked most. Patience, Prudence, and Chastity, they were called. So I'd meant to ask ye, Rachel—do Friends often call their children after virtues?"
"They do," she said, and smiling at Jemmy, who had started to twitch a little, added, "Jeremiah—if thee wasn't called Jeremiah, what name would thee choose? If thee were to be named for a virtue, I mean."
"Whassa virtue?" Mandy had asked, frowning at her brother as though expecting him to sprout one momentarily.
"Something good," Germain had told her. "Like…" he glanced dubiously at Rachel for confirmation, "…Peace? Or maybe Goodness?"
"Exactly," she'd said, nodding gravely. "What name would thee choose, Germain, while Jemmy is thinking? Piety?"
"No!" he'd said, horrified, and amid the general laughter, people had begun proposing nommes-de-virtu, both for themselves and various family members, with ensuing outbursts of laughter or—once or twice—heated discussions regarding the appropriateness of a suggestion.
---
Click here to return to my official BEES webpage which has more information about this book, and access to the more than fifty excerpts (aka "Daily Lines") that I have released.
---
This excerpt is from GO TELL THE BEES THAT I AM GONE, Copyright © 2019 by Diana Gabaldon, the ninth book in my Outlander series of novels. All rights reserved.
If you wish to share this excerpt with others, please copy and paste this link (URL) below:
http://www.dianagabaldon.com/books/outlander-series/book-nine-outlander-series/piety/
Please do not copy the text from this excerpt (whole or in part) and paste it to share on personal or fan webpages, blogs, social media, in printed or digital documents, or anywhere else, publicly or privately. And please do not translate this excerpt into another language and publicly post, publish, or share it. Thanks!
-Diana
Photo by and © Diana Gabaldon.
This excerpt (or "Daily Lines") was first posted on my official Facebook page on December 1, 2019.
This webpage was last updated on Thursday, December 5, 2019 at 12:25 p.m. (Pacific Time) by Diana Gabaldon or Diana's Webmistress.