---
Social Media Hashtags: #DailyLines, #hardwork, #GoTELLTheBEESThatIAmGONE, #Book9, #quietrest, #exultationandthanks, #noitisndoneyet, #goeatyourpie, #withwhippedcream, #withafewdropsofDoubleBourbonVanilla
Excerpt from GO TELL THE BEES THAT I AM GONE, Copyright © 2019 by Diana Gabaldon.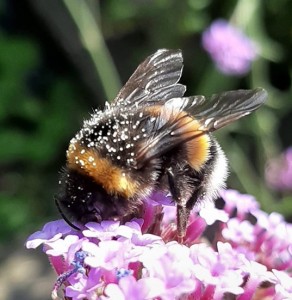 It was dark outside; the moon had set and dawn was some way off. It was cold, but the cold didn't touch me.
I'd let him take the baby, at last. Felt his hands on mine as he took her, warm and sure, his face filled with light. He'd knelt carefully and given the baby to Susannah, placing his hand on the child in benediction.
Then he'd stood and wrapped me in my cloak and walked me outside. I couldn't feel the ground beneath my feet, or see the forest, but the cold air smelt of pine and lay like a balm on my heated skin.
"All right, Sassenach?" he whispered. I seemed to be leaning against him, though I didn't remember doing it. I'd lost track of where my body began and ended; the pieces seemed to be floating about in a loose sort of cloud of exaltation.
I felt Jamie's hands tremble a little as he touched my face. From exhaustion, I thought. The same small, constant quiver seemed to be running through me from crown to sole, like a low-voltage current of electricity.
In fact, I'd passed clear through exhaustion and out the other side, as one does sometimes in moments of great effort, You know that your bodily energy has been used up, and yet there's a supernatural sense of mental clarity and a strange capacity to keep moving, but at the same time, you see it all simultaneously, from outside yourself and from your deepest core—the usual intervening layers of flesh and thought have become transparent.
"I'm fine," I said, and I laughed. Let my forehead fall against his chest and breathed for a moment, feeling all my pieces come to rest, whole again, as the enchantment of the last hour faded into peace.
"Jamie," I said, a few moments later, raising my head. "What color is my hair?"
---
Click here to return to my official BEES webpage which has more information about this book, and access to the more than fifty excerpts (aka "Daily Lines") that I have released.
---
Thanks to Harriet Bremer-de Maar for the the lovely bee photo!
This excerpt is from GO TELL THE BEES THAT I AM GONE, Copyright © 2019 by Diana Gabaldon, the ninth book in my Outlander series of novels. All rights reserved.
If you wish to share this excerpt with others, please copy and paste this link (URL) below:
http://www.dianagabaldon.com/books/outlander-series/book-nine-outlander-series/the-baby/
Please do not copy the text from this excerpt (whole or in part) and paste it to share on personal or fan webpages, blogs, social media, in printed or digital documents, or anywhere else, publicly or privately. And please do not translate this excerpt into another language and publicly post, publish, or share it. Thanks!
-Diana
This excerpt (aka "Daily Lines") was first posted on November 28, 2019.
This webpage was last updated on Thursday, December 5, 2019, at 11:35 a.m. (Pacific Time) by Diana Gabaldon or Diana's Webmistress.