---
Social Media Hashtags: #DailyLines, #GoTELLTheBEESThatIAmGONE, #Book9, #HappyThanksgiving!!, #So, #WhatAreYOUFixingforThanksgivingDinner?
[Excerpt from GO TELL THE BEES THAT I AM GONE, Copyright © 2020 by Diana Gabaldon.]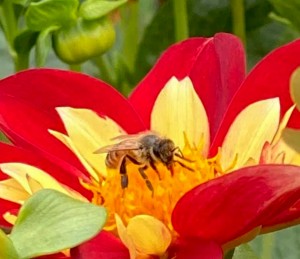 "I'm no going to tell her about […]," he said to me. I was sniffing cautiously at the stew I'd made for dinner, but desisted in order to look sideways at him.
"Why on earth not?"
"Because if I did, she'd go because she thought I wanted her to, even if she otherwise wouldna go at all."
That was probably true, though I personally didn't see anything wrong with asking her to do something Jamie wanted done. He plainly did, though, so I nodded agreeably and held out the spoon to him.
"Taste that, will you, and tell me if you think it's fit for human consumption."
He paused, spoon halfway to his mouth.
"What's in it?"
"I was hoping you could tell me. I think it might possibly be venison, but Mrs. MacDonald didn't know for sure; her husband came home with it from a trip to the Cherokee villages and it didn't have any skin on it, and he said he'd been too drunk when he won it in a dice game to have asked."
Eyebrows raised as high as they'd go, he sniffed gingerly, blew on the spoonful of hot stew, then licked up a small taste, closing his eyes like a French degustateur judging the virtues of a new Rhone.
"Hmm," he said. He lapped a little more, though, which was encouraging, and finally took a whole bite, which he chewed slowly, eyes still closed in concentration.
Finally he swallowed, and opening his eyes, said, "It needs pepper. And maybe vinegar?"
"For taste, or disinfection?" I asked. I glanced at the pie-safe, wondering whether I could scrabble together sufficient remnants from its contents for a substitute dinner.
"Taste," he said, leaning past me to dip the spoon again. "It's wholesome enough, though. I think it's wapiti—and meat from a verra old, tough buck. Is it not Mrs. MacDonald who thinks you're a witch?"
"Well, if she does, she kept it to herself when she brought me her youngest son yesterday, with a broken leg. The older son brought the meat this morning. It was quite a large chunk of meat, regardless of origin. I put the rest in the smokehouse, but it smelled a little odd.'
"What smells odd?" The back door opened and Brianna came in, carrying a small pumpkin, Roger behind her with a basket of collard greens from the garden.
I raised a brow at the pumpkin—too small for pie-making, and very much too green, and she shrugged.
"A rat or something was gnawing at it when we went into the garden." She turned it to display fresh tooth-marks. "I knew it would go bad right away if we left it—if the rat didn't come right back and finish it off—so we brought it in."
"Well, I've heard of fried green pumpkin," I said, dubiously accepting the gift. "This is already rather an experimental meal, after all."
Brianna looked at the hearth and took a deep, cautious sniff.
"It smells… edible," she said.
"Aye, that's what I said," Jamie said, waving aside the possibility of wholesale ptomaine poisoning with one hand. "Sit down, lass. Lord John's sent me a wee letter."
"Lord John?" One red brow arched, and her face lighted up. "My favorite person! What does he want?"
Jamie stared at her. He'd stuffed the letter in his pocket; obviously he wasn't going to let her read it.
"Why would ye think he wants something?" he asked, wary but curious.
Brianna swept her skirt to one side and sat down, pumpkin still in one hand, and extended a hand to Jamie, palm up.
"Lend me your dirk for a minute, Da. As for Lord John, he doesn't do social chat. I don't know what he wants, but I've read enough of his letters to know that he doesn't bother writing unless he's got a purpose."
I snorted slightly and exchanged a look with Jamie. That was completely true. Granted, his purpose was occasionally just to warn Jamie that he was risking his head, his neck or his balls in whatever rash venture John thought he might be involved in, but it definitely was a purpose.
Bree took the proffered dirk and began to slice the small pumpkin, spilling glistening clumps of tangled green seeds onto the table.
"So?" she said, eyes on her work.
"So," Jamie said, and took a deep breath.
[end section]
The green pumpkin was indeed edible, though I wouldn't say much more for it than that.
"Needs ketchup," was Jemmy's comment.
"Aye," his grandfather agreed, chewing gingerly. "Walnut ketchup, maybe? Or mushroom."
"Walnut ketchup?" Jemmy and Amanda burst into giggles, but Jamie merely eyed them tolerantly.
"Aye, ye wee ignoramuses," he said. "Ketchup's any relish ye put on your meat—no just that tomato mash your Mam makes for ye."
"What does walnut ketchup taste like?" Jem demanded.
"Walnuts," Jamie said, unhelpfully. "Wi' vinegar and anchovies and a few other things. Hush now; I want to be speaking wi' your mother."
---
Go to my official webpage for GO TELL THE BEES THAT I AM GONE for more information about this book and links to more Daily Lines (excerpts).
---
And many thanks to Sylvia Cornette, for the spectacular bee photo!
You may share the link to this excerpt, but please do not copy and paste the text in whole or in part and post it elsewhere. Thank you.
-Diana
---
This excerpt ("Daily Lines") was also posted on my official Facebook page on November 25, 2020.