---
Tuesday, July 4, 2023
A bit for the Fourth of July — Let us remember that there are always (at least) two sides to a fight…
-Diana
[Excerpt from Untitled Book Ten — Copyright © 2023 Diana Gabaldon]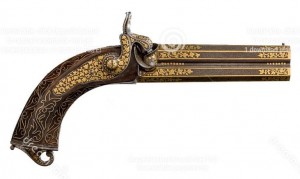 Hal gave up the notion of neatly folding his uniform coat—it looked simple enough when his valet did it, but as with many things, practice evidently mattered—and rolled it into a sort of thick sausage, which he folded in half and crammed into his saddlebag, moleskin breeches, clean neckcloth and gold-laced epaulets stuffed in on top. Anything else?
"Shirt, God damn it," he said aloud, clutching the front of the one he was wearing. Cursing under his breath, he pawed through the armoire in search of a clean frilled shirt. The search not only resulted in a shirt—already folded, too!—but focused his mind to a sufficient extent as to remind him of stockings, dress boots and… what? Something else was missing…
"Oh, gorget, yes. Can't forget that." 'That' was on his dressing table, as usual. He picked it up, weighing it in his hand as he usually did before putting it on, for the tactile pleasure of it. Solid, smooth silver-gilt, gracefully made, with his regimental insignia embossed upon it. He reached to drop it into the saddlebag, then impulsively put it on instead, tucking it down inside the rough shirt he'd put on for the journey. Strange, that it should have the same effect upon his spirit as putting on armor might have had to an earlier warrior—though that's what it was, in all fairness—armor, the remnant symbol of a breastplate.
He took a deep breath, and with it, found the last scrap of courage that he needed.
He closed the flap of the saddlebag, set it with its fellow by the door, and sat down at his desk to write to his wife.
I had hoped to surprise you with an early return to England, but Things have fallen out otherwise. Ben is alive—but I forget, you likely don't know he was supposed to be dead. He's not. He has turned his Coat, though, and I must go and—
He broke off and eyed the paper, twiddling the quill between his fingers.
"And what?" he said aloud. Reproach Ben? Kidnap him? Kill him?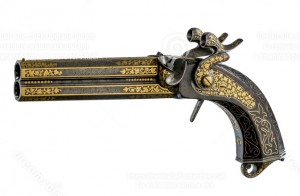 "God knows," he muttered, and wrote, "mend Matters. I love you." He hesitated for a moment, considering whether to add "trust me," but didn't, instead folding, sealing and stamping the note. He wrote "Her Grace the Duchess of Pardloe" by way of direction, then laid it atop the pile of mail for one of his aides to take away.
His stomach growled; he hadn't eaten anything yet today, he hadn't been hungry before. He glanced at the leather case that lay on the desk, and the hunger pangs disappeared.
He knew everything was in order, but flipped the case open anyway, unable not to check once more.
The brace of duelling pistols lay gleaming somberly in their lambswool beds, facing each other like the men who would hold them.
---
Click to visit my Book Ten webpage for information on this book, and to read more excerpts from it.
---
This excerpt was also posted on my official Facebook page on July 4, 2023.