---
Social Media Hashtags: #DailyLines #UntitledBook10 #HappyEaster #ChagPesachSameach #or #DeliriousRitesofSpring #YourPreference #nospoilers
[Excerpt from (Untitled) Book Ten. Copyright © 2022 by Diana Gabaldon. All Rights Reserved.]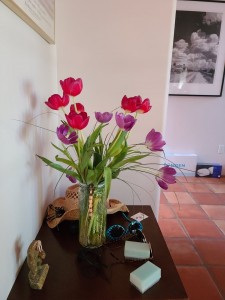 The room was large and dim; someone had tacked part of a burlap sack over the large window, but light filtered through. So did a breeze carrying the earthy smell of fresh potatoes through the burlap. He picked loose a couple of tacks and the breeze, thus invited, cooled his face and rippled through his hair, like the touch of gentle fingers.
"Mother?" he said softly.
It hadn't happened in some time. When he was younger, he felt it often; the passing touch of a hand, stroking his head, touching his shoulder, vanished in a moment. He'd never told anyone about it.
Maybe she was here, because he was here—Fraser?
Fraser had declined to tell him anything regarding his relations with Mother Geneva, and William was reluctantly obliged to admit that this was gentlemanly of him.
"I still want to know, though."
"Know what?"
He swung round, startled, to find his sister standing in the doorway, her face full of joy and her arms full of quilts.
"I—nothing," he said, and felt a sudden bounce in his heart. "Sister. I—it's good to see you." The smile on her face was on his own, and she dropped the bedding and hugged him tight. The smell of her was different from the last time he'd seen her. The pungent scents of turpentine and linseed oil were gone, replaced by an oddly disorienting scent that he tentatively identified as milk and baby-shit.
"You've had a child?" he blurted, letting go. "Another, I mean?" It wasn't surprise at the revelation, as much as the fact that the scents of motherhood were inextricably linked with Amaranthus in his mind.
"You have a new nephew," she said, laughing at him. "Davy. David William James Fraser MacKenzie, to be exact."
"William?" He could feel his lips twitching, not sure whether he should assume that…
"Yes, we named him for you," she assured him. "Partly."
"Well, I'm entirely grateful," he said, smiling. "And most sensible of the honor… sister."
"Brother," she said softly, and reached out to touch his face. "It's good to see you. Will you stay awhile?"
---
Return to my Book Ten webpage.
---
Please do not copy and paste the text of this excerpt and post it elsewhere, since it is copyrighted material. Instead, please share the link (URL).`
---
Photo of my Easter bouquet was taken by me.
This excerpt was also posted on Sunday, April 17, 2022, on my official Facebook page.