---
[Copyright © 1991 by Diana Gabaldon. All rights reserved.]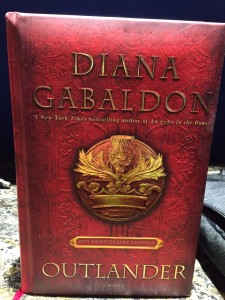 Apparently he was feeling better. I smiled, despite myself, but spoke firmly nonetheless. "You be quiet," I said, "or I'll hurt you." He gingerly touched the dressing, and I slapped his hand away.
"Oh, threats, is it?" he asked impudently. "And after I shared my drink with ye too!"
The flask completed the circle of men. Kneeling down next to me, Dougal tilted it carefully for the patient to drink. The pungent, burnt smell of very raw whisky floated up, and I put a restraining hand on the flask.
"No more spirits," I said. "He needs tea, or at worst, water. Not alcohol."
Dougal pulled the flask from my hand, completely disregarding me, and poured a sizable slug of the hot-smelling liquid down the throat of my patient, making him cough. Waiting only long enough for the man on the ground to catch his breath, he reapplied the flask.
"Stop that!" I reached for the whisky again. "Do you want him so drunk he can't stand up?"
I was rudely elbowed aside.
"Feisty wee bitch, is she no?" said my patient, sounding amused.
"Tend to your business, woman," Dougal ordered. "We've a good way to go yet tonight, and he'll need whatever strength the drink can give him."
The instant the bandages were tied, the patient tried to sit up. I pushed him flat and put a knee on his chest to keep him there. "You are not to move," I said fiercely. I grabbed the hem of Dougal's kilt and jerked it roughly, urging him back down on his knees next to me.
"Look at that," I ordered, in my best ward-sister voice. I plopped the sopping mass of the discarded shirt into his hand. He dropped it with an exclamation of disgust.
I took his hand and put it on the patient's shoulder. "And look there. He's had a blade of some kind right through the trapezius muscle."
"A bayonet," put in the patient helpfully.
"A bayonet!" I exclaimed. "And why didn't you tell me?"
He shrugged, and stopped short with a mild grunt of pain. "I felt it go in, but I couldna tell how bad it was; it didna hurt that much."
"Is it hurting now?"
"It is," he said, shortly.
"Good," I said, completely provoked. "You deserve it. Maybe that will teach you to go haring round the countryside kidnapping young women and k-killing people, and…." I felt myself ridiculously close to tears and stopped, fighting for control.
Dougal was growing impatient with this conversation. "Well, can ye keep one foot on each side of the horse, man?"
"He can't go anywhere!" I protested indignantly. "He ought to be in hospital! Certainly he can't—"
My protests, as usual, went completely ignored. "Can ye ride?" Dougal repeated.
"Aye, if ye'll take the lassie off my chest and fetch me a clean shirt."
---
Return to Diana's OUTLANDER webpage.
---
The image above shows the cover of the special hardcover 25th Anniversary Edition of OUTLANDER. Photo by Diana.
This excerpt (aka Daily Lines) was also featured in Diana's blog titled "World Outlander Day 2019" posted on June 2, 2019.
This page was last updated on Wednesday, June 5, 2019, by Diana Herself or Diana's Webmistress.