---
Copyright © 1992 Diana Gabaldon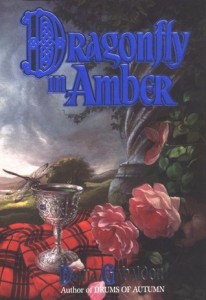 I spent the afternoon in reading one of the herbals that my friend Brother Ambrose had pressed upon me as a parting gift, then in necessary repairs with needle and thread. Neither of us owned many clothes, and while there were advantages in traveling light, it meant that holey socks and undone hems demanded immediate attention. My needlecase was nearly as precious to me as the small chest in which I carried herbs and medicines.
The needle dipped in and out of the fabric, winking in the light from the window. I wondered how Jamie's visit with Jared was going. I wondered still more what Prince Charles would be like. He would be the first historically famous person I had met, and while I knew better than to believe all the legends that had (not had, would, I reminded myself) sprung up around him, the reality of the man was a mystery. The Rising of the '45 would depend almost entirely on the personality of this one young man—its failure or success. Whether it took place at all might depend upon the efforts of another young man—Jamie Fraser. And me.
I was still absorbed in my mending and my thoughts, when heavy footsteps in the corridor aroused me to the realization that it was late in the day; the drip of water from the eaves had slowed as the temperature dropped, and the flames of the sinking sun glowed in the ice spears hanging from the roof. The door opened, and Jamie came in.
He smiled vaguely in my direction, then stopped dead by the table, face absorbed as though he were trying to remember something. He took his cloak off, folded it, and hung it neatly over the foot of the bed, straightened, marched over to the other stool, sat down on it with great precision, and closed his eyes.
I sat still, my mending forgotten in my lap, watching this performance with considerable interest. After a moment, he opened his eyes and smiled at me, but didn't say anything. He leaned forward, studying my face with great attention, as though he hadn't seen me in weeks. At last, an expression of profound revelation passed over his face, and he relaxed, shoulders slumping as he rested his elbows on his knees.
"Whisky," he said, with immense satisfaction.
"I see," I said cautiously. "A lot of it?"
He shook his head slowly from side to side, as though it were very heavy. I could almost hear the contents sloshing.
"Not me," he said, very distinctly. "You."
"Me?" I said indignantly.
"Your eyes," he said. He smiled beatifically. His own eyes were soft and dreamy, cloudy as a trout pool in the rain.
"My eyes? What have my eyes got to do with . . ."
"They're the color of verra fine whisky, wi' the sun shining through them from behind. I thought this morning they looked like sherry, but I was wrong. Not sherry. Not brandy. It's whisky. That's what it is." He looked so gratified as he said this that I couldn't help laughing.
"Jamie, you're terribly drunk. What have you been doing?"
His expression altered to a slight frown.
"I'm not drunk."
"Oh, no?" I laid the mending aside and came over to lay a hand on his forehead. It was cool and damp, though his face was flushed. He at once put his arms about my waist and pulled me close, nuzzling affectionately at my bosom. The smell of mingled spirits rose from him like a fog, so thick as almost to be visible.
"Come here to me, Sassenach," he murmured. "My whisky-eyed lass, my love. Let me take ye to bed."
I thought it a debatable point as to who was likely to be taking whom to bed, but didn't argue. It didn't matter why he thought he was going to bed, after all, provided he got there. I bent and got a shoulder under his armpit to help him up, but he leaned away, rising slowly and majestically under his own power.
"I dinna need help," he said, reaching for the cord at the neck of his shirt. "I told ye, I'm not drunk."
"You're right," I said. " 'Drunk' isn't anywhere near sufficient to describe your current state. Jamie, you're completely pissed." His eyes traveled down the front of his kilt, across the floor, and up the front of my gown.
"No, I'm not," he said, with great dignity. "I did that outside." He took a step toward me, glowing with ardor. "Come here to me, Sassenach; I'm ready."
I thought "ready" was a bit of an overstatement in one regard; he'd gotten his buttons half undone, and his shirt hung askew on his shoulders, but that was as far as he was likely to make it unaided.
In other respects, though . . . the broad expanse of his chest was exposed, showing the small hollow in the center where I was accustomed to rest my chin, and the small curly hairs sprang up joyous around his nipples. He saw me looking at him, and reached for one of my hands, clasping it to his breast. He was startlingly warm, and I moved instinctively toward him. The other arm swept round me and he bent to kiss me. He made such a thorough job of it that I felt mildly intoxicated, merely from sharing his breath.
"All right," I said, laughing. "If you're ready, so am I. Let me undress you first, though—I've had enough mending today."
He stood still as I stripped him, scarcely moving. He didn't move, either, as I attended to my own clothes and turned down the bed.
I climbed in and turned to look at him, ruddy and magnificent in the sunset glow. He was finely made as a Greek statue, long-nosed and high-cheeked as a profile on a Roman coin. The wide, soft mouth was set in a dreamy smile, and the slanted eyes looked far away. He was perfectly immobile.
I viewed him with some concern.
"Jamie," I said, "how, exactly, do you decide whether you're drunk?"
Aroused by my voice, he swayed alarmingly to one side, but caught himself on the edge of the mantelpiece. His eyes drifted around the room, then fixed on my face. For an instant, they blazed clear and pellucid with intelligence.
"Och, easy, Sassenach. If ye can stand up, you're not drunk." He let go of the mantelpiece, took a step toward me, and crumpled slowly onto the hearth, eyes blank, and a wide, sweet smile on his dreaming face.
"Oh," I said.
* * *
The yodeling of roosters outside and the clashing of pots below woke me just after dawn the next morning. The figure next to me jerked, waking abruptly, then froze as the sudden movement jarred his head.
I raised up on one elbow to examine the remains. Not too bad, I thought critically. His eyes were screwed tightly shut against stray beams of sunlight, and his hair stuck out in all directions like a hedgehog's spines, but his skin was pale and clear, and the hands clutching the coverlet were steady.
I pried up one eyelid, peered within, and said playfully, "Anybody home?"
The twin to the eye I was looking at opened slowly, to add its baleful glare to the first. I dropped my hand and smiled charmingly at him.
"Good morning."
"That, Sassenach, is entirely a matter of opinion," he said, and closed both eyes again.
"Have you got any idea how much you weigh?" I asked conversationally.
"No."
The abruptness of the reply suggested that he not only didn't know, he didn't care, but I persisted in my efforts.
"Something around fifteen stone, I make it. About as much as a good-sized boar. Unfortunately, I didn't have any beaters to hang you upside down from a spear and carry you home to the smoking shed."
One eye opened again, and looked consideringly at me, then at the hearthstone on the far side of the room. One corner of his mouth lifted in a reluctant smile.
"How did you get me in bed?"
"I didn't. I couldn't budge you, so I just laid a quilt over you and left you on the hearth. You came to life and crawled in under your own power, somewhere in the middle of the night."
He seemed surprised, and opened the other eye again.
"I did?"
I nodded and tried to smooth down the hair that spiked out over his left ear.
"Oh, yes. Very single-minded, you were."
"Single-minded?" He frowned, thinking, and stretched, thrusting his arms up over his head. Then he looked startled.
"No. I couldn't have."
"Yes, you could. Twice."
He squinted down his chest, as though looking for confirmation of this improbable statement, then looked back at me.
"Really? Well, that's hardly fair; I dinna remember a thing about it." He hesitated for a moment, looking shy. "Was it all right, then? I didna do anything foolish?"
I flopped down next to him and snuggled my head into the curve of his shoulder.
"No, I wouldn't call it foolish. You weren't very conversational, though."
"Thank the Lord for small blessings," he said, and a small chuckle rumbled through his chest.
"Mm. You'd forgotten how to say anything except 'I love you,' but you said that a lot."
The chuckle came back, louder this time. "Oh, aye? Well, could have been worse, I suppose."
He drew in his breath, then paused. He turned his head and sniffed suspiciously at the soft tuft of cinnamon under his raised arm.
"Christ!" he said. He tried to push me away. "Ye dinna want to put your head near my oxter, Sassenach. I smell like a boar that's been dead a week."
"And pickled in brandy after," I agreed, snuggling closer. "How on earth did you get so—ahem—stinking drunk, anyway?"
"Jared's hospitality." He settled himself in the pillows with a deep sigh, arm round my shoulder.
"He took me down to show me his warehouse at the docks. And the storeroom there where he keeps the rare vintages and the Portuguese brandy and the Jamaican rum." He grimaced slightly, recalling. "The wine wasna so bad, for that you just taste, and spit it on the floor when you've done wi' a mouthful. But neither of us could see wasting the brandy that way. Besides, Jared said ye need to let it trickle down the back of your throat, to appreciate it fully."
"How much of it did you appreciate?" I asked curiously.
"I lost count in the middle of the second bottle." Just then, a church bel started to ring nearby; the summons to early Mass. Jamie sat bolt upright, staring at the windowpane, bright with sun.
"Christ, Sassenach! What time is it?"
"About six, I suppose," I said, puzzled. "Why?"
He relaxed slightly, though he stayed sitting up.
"Oh, that's all right, then. I was afraid it was the Angelus bell. I'd lost all track of time."
"I'd say so. Does it matter?"
In a burst of energy, he threw back the quilts and stood up. He staggered a moment, but kept his balance, though both hands went to his head, to make sure it was still attached.
"Aye," he said, gasping a bit. "We've an appointment this morning down at the docks, at Jared's warehouse. The two of us."
"Really?" I clambered out of bed myself, and groped for the chamber pot under the bed. "If he's planning to finish the job, I shouldn't think he'd want witnesses."
Jamie's head popped through the neck of his shirt, eyebrows raised.
"Finish the job?"
"Well, most of your other relatives seem to want to kill you or me; why not Jared? He's made a good start at poisoning you, seems to me."
"Verra funny, Sassenach," he said dryly. "Have ye something decent to wear?"
I had been wearing a serviceable gray serge gown on our travels, acquired through the good offices of the almoner at the Abbey of Ste. Anne, but I did also have the gown in which I had escaped from Scotland, a gift from Lady Annabelle MacRannoch. A pretty leaf-green velvet, it made me look rather pale, but was stylish enough.
"I think so, if there aren't too many saltwater stains on it."
I knelt by the small traveling chest, unfolding the green velvet. Kneeling next to me, Jamie flipped back the lid of my medicine box, studying the layers of bottles and boxes and bits of gauze-wrapped herbs.
"Have ye got anything in here for a verra vicious headache, Sassenach?"
I peered over his shoulder, then reached in and touched one bottle.
"Horehound might help, though it's not the best. And willow-bark tea with sow fennel works fairly well, but it takes some time to brew. Tell you what—why don't I make you up a recipe for hobnailed liver? Wonderful hangover cure."
He bent a suspicious blue eye on me.
"That sounds nasty."
"It is," I said cheerfully. "But you'll feel lots better after you throw up."
"Mphm." He stood up and nudged the chamber pot toward me with one toe.
"Vomiting in the morning is your job, Sassenach," he said. "Get it over with and get dressed. I'll stand the headache."
Back to the DRAGONFLY IN AMBER webpage…
---