---
Thursday, December 24, 2015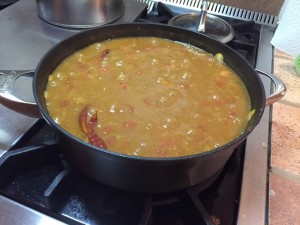 I'd normally post this recipe on New Year's, but I was tweeting pictures of the green chili I'm making tonight, and several people asked for it, so… (this recipe, along with a few others, is in THE OUTLANDISH COMPANION, Volume Two — hence the opinionated footnotes.)
NEW YEAR'S (or CHRISTMAS) GREEN CHILE
What do you want to eat on New Year's Day? Well, if you ask a Scot what the ideal breakfast is, to follow a proper Hogmanay piss-up, it's a sausage square or bacon butty*, washed down with a can of Irn-Bru.**
If you ask a New Mexican, though… it's green chile, with eggs, beans, tortillas, or all three.
This is my father's green chile, which I watched him make hundreds of times. He never wrote down the recipe, but it's a fairly easy dish—and it's one that gets better with standing, so good to make it the day or night before.
INGREDIENTS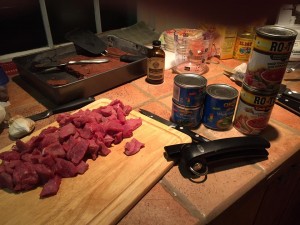 1-2 pounds of diced/sliced lean beef—any kind will do, but try to get some without a lot of gristle or fat. The sort you'd use for stir-fry is good.
Oil — I use olive oil, but my Dad used corn oil (the only "vegetable oil" commonly available at that time), and canola, safflower, or any other oil you like will work fine. (I think I wouldn't use coconut oil, though.)
A few spoonfuls of flour—regular wheat flour (unless you're gluten free, in which case use quinoa or whatever works for you)
Six or seven cloves of garlic, minced
An equivalent amount of onion, minced
Two cans of Ro-Tel tomatoes (10-ounce cans). I use the kind spiced with lime and cilantro ("Mexican style"), but there are several types; any that you like will work. This recipe specifically requires Ro-Tel canned tomatoes, though <g>; I take no responsibility for how it turns out if you use something else.
Two cans of hot green chiles (diced), usually 7 oz. cans.
Two cans of mild green chiles (diced), usually 7 oz. cans.
(You can adjust the proportions of hot and mild chiles to suit your own palate. Using an equal amount of each produces a dish that's spicy but not hot enough to burn your mouth.)
PROCEDURE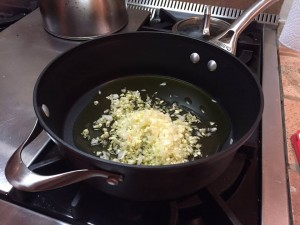 Use a large cooking pot—4 quarts or so. Put in enough oil to cover the bottom of the pot. Add the minced garlic and onions, and sauté over medium heat, stirring now and then, until the alliums (the garlic and onions) just begin to brown.
Add chopped meat and brown, stirring frequently. When meat is completely browned, sprinkle it with flour. You want to coat the meat, but not have big lumps of flour, so just stir it in a little at a time.
Dump in the tomatoes and green chiles and stir.
This is basically it. The rest is just cooking: you need to simmer this for at least an hour (more is better), stirring every ten minutes or so to prevent sticking or scorching, and adding a little water every so often as it cooks down (you're aiming for a consistency rather like freshly-cooked oatmeal, though tastes differ—some people prefer a thinner, more watery consistency, which is fine. Just add water to achieve the texture you like).
Once the chile is made, you can turn off the heat, cover the pot, and let it stand overnight, heating it up to eat the next day. You can eat it fresh, but it's really better if it stands; the acids from the tomatoes and chiles tenderize the meat and mingle to give the dish a deeper flavor.
SERVING
Green chile can be eaten alone, in a bowl with a spoon—or you can make burritos of it (my own personal favorite), spooning a line of green chile down the middle of a flour tortilla (any size), with or without beans added, then folding over one side of the tortilla, folding up the bottom, and then folding over the other side. (Pinto beans are traditional, and the kind I always use for this. I don't usually bother cooking the beans myself, though; Ranch-style Pinto Beans in a can work fine.)
But it's a versatile dish; it works well, served over fried eggs or mixed with scrambled eggs, over grilled steak or hamburger, or just mixed with beans and eaten with a spoon.
As to what you wash it down with, beer is traditional, but I generally use Diet Coke. Champagne is fine, though, if you happen to have some left over.
Merry Christmas and Happy New Year!
---
Footnotes:
*The sausage isn't bad. Bacon butties are, on the whole, vile. "Bacon" in the U.K. is not what you in the U.S. are used to; it's limp, stringy, ultra-salty, thin-sliced fatty ham. Serve in a squidgy white bun with ketchup, and you've really got something. Mind you, contemplating this probably would take your mind off the hangover… (my younger son-in-law is Scottish…)
**Imagine a combination of Karo corn syrup and club soda, dyed a brilliant orange. Then think what your intestines will look like after drinking it.
---
Go back to the webpage for THE OUTLANDISH COMPANION, Volume Two.
---
This recipe was posted on my Facebook page on Thursday, December 24, 2015. I also posted it on previous years during the holidays.
Recipe and images copyright © 2015 by Diana Gabaldon. All rights reserved. All images by Diana Gabaldon.
---
This page was lats updated on Monday, January 11, 2016 at 4:48 p.m. (PT) by Diana's Webmistress.