---
Social Media Hashtags: #DailyLines, #GoTELLTheBEESThatIAmGONE, #Book9, #veryverywellthankyou, #abitofdomesticity
[Excerpt Copyright © 2019 by Diana Gabaldon. I just used this snip elsewhere online to illustrate a bit of writing technique—i.e., weaving domestic details into the fabric of a larger scene that's dealing with something else—so thought I might as well share it with you guys, too. Hope you enjoy it!]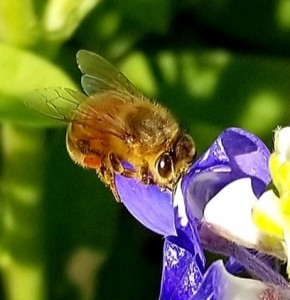 I nodded agreeably and held out the spoon to him.
"Taste that, will you, and tell me if you think it's fit for human consumption."
He paused, spoon halfway to his mouth.
"What's in it?"
"I was hoping you could tell me. I think it might possibly be venison, but Mrs. MacDonald didn't know for sure; her husband came home with it from a trip to the Cherokee villages and it didn't have any skin on it, and he said he'd been too drunk when he won it in a dice game to have asked."
Eyebrows raised as high as they'd go, he sniffed gingerly, blew on the spoonful of hot stew, then licked up a small taste, closing his eyes like a French degustater judging the virtues of a new Beaujolais.
"Hmm," he said. He lapped a little more, though, which was encouraging, and finally took a whole bite, which he chewed slowly, eyes still closed in concentration.
Finally he swallowed, and opening his eyes, said, "It needs pepper. And maybe vinegar?"
"For taste, or disinfection?" I asked. I glanced at the pie-safe, wondering whether I could scrabble together sufficient remnants from its contents for a substitute dinner.
"Taste," he said, leaning past me to dip the spoon again. "It's wholesome enough, though. I think it's wapiti—and meat from a verra old, tough buck. Is it not Mrs. MacDonald who thinks you're a witch?"
"Well, if she does, she kept it to herself when she brought me her youngest son yesterday, with a broken leg. The older son brought the meat this morning. It was quite a large chunk of meat, regardless of origin. I put the rest in the smokehouse, but it smelled a little odd."
---
Click here to visit (or return to) my GO TELL THE BEES THAT I AM GONE webpage, Book Nine in my OUTLANDER series of major novels.
---
Selected Social Media Comments:
Nancy J. said, "I love how you weave real life into your stories I have realized that is what I need to really dive into the world of a book. Now I am spoiled because so few authors do it well. Thank you ma'am for a lovely bit to start my day."
Joanne T-M said, "This is wonderful. I am reading THE FIERY CROSS again. When I pick up your books and delve in again I find it is like visiting old friends. Very comforting."
Cornelia S-H said, "Love that you are sharing these snippets with us. Thank you so much!!"
Toni P. said, "Love findings these little snippets. Diana you never cease to create the perfect scenario. Thank you for all the hours of pure enjoyment reading you words."
Jacqueline N. said, "These are my favourites moments with the older Jamie and Claire. Thank you so much for writing such beautiful words and weaving them into a most wonderful story."
Glenda S-K said, "Love reading these little parts of the new book. Looking forward to the finished product. Thank you for sharing this."
---
[Thank you for the lovely bee on a Texas Bluebonnet, from Angela M. Dallas!]
This excerpt (aka "Daily Lines") is from GO TELL THE BEES THAT I AM GONE. Copyright © 2019 by Diana Gabaldon. All rights reserved. You are welcome to copy and share the URL to this webpage with others:
http://www.dianagabaldon.com/books/outlander-series/book-nine-outlander-series/a-bit-of-domesticity/
but please DO NOT copy the text yourself and paste it elsewhere on webpages, social media, or anywhere else, since it is my copyrighted material. Thank you.
---
This excerpt was released on June 15, 2019. This webpage was last updated on Saturday, June 22, 2019, at 11:30 a.m. (Pacific Time) by Diana Gabaldon or Diana's Webmistress.
---