---
Tuesday, October 23, 2018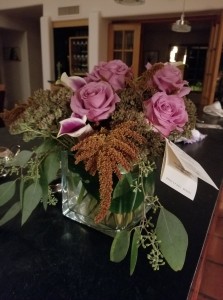 MAN, what a week it's been! First off, let me thank ALL of you who did such great work, voting in the PBS "Great American Read" program. I know a lot of you voted day after day, and often multiple times a day; I appreciate that HUGELY—and your votes were not in vain!
PBS filmed the finale on Sunday night (swearing the audience to secrecy, which apparently worked; I didn't see any leaks), but aired it this evening (Tuesday). It was an interesting format: they invited a number of authors from nominated books to come and introduce segments of the list (with light running commentary)—by "segments," I mean they had two writers count down the list from the book that ended up in 100th place, to the book that was #81. Then they did a video about one or another of the five finalist books, shuffled their screen of intriguing book-covers, and called up the next set of authors to comment on books 80-61, and so on.
When they got to the last (or first, depending how you want to look at it) ten books, they counted down to the final five, then called the representatives of those books out on stage for the final countdown. I say "representatives," because the authors of three of the finalists are dead, and J.K. Rowling, who was in the list, wasn't there. I was the only author representing my own book. <g>
If you'd like to watch the finale episode yourself, here's a link to it:
https://www.pbs.org/video/grand-finale-q4ij7z/
But for those who don't want to sit through the suspense <g>—OUTLANDER came in second, behind TO KILL A MOCKINGBIRD (the PBS people noted that MOCKINGBIRD had been #1 on the list from the very first day of voting, and never wavered from that position).
Personally, I was thrilled—we beat PRIDE AND PREJUDICE, LORD OF THE RINGS (!!) and HARRY POTTER! TO KILL A MOCKINGBIRD is a great classic, a wonderful read—and a book that means a lot to a great number of people in the current political climate, owing to its themes of racial and social justice. It totally deserved to win.
Besides, as my lovely editor said in an email to me this morning (retrieved in JFK airport on my way home),
"You are officially the most beloved living writer! … We are so thrilled and proud to be your publisher!"
I'm thrilled and proud to have the support of a great publisher—but most of all, to have the support of so many wonderful readers! MORAN TAING! (that's "Thanks a lot" in Gaelic)
And if you'd like to see the final results of the "Great American Read"here's the complete list:
https://www.pbs.org/the-great-american-read/results/
-Diana