---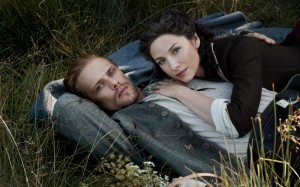 "Better To Marry Than Burn"
Now, overall, I liked Ep. 506 (of the STARZ Outlander TV show)—especially Jocasta's heartbreaking final words with Murtaugh—Maria Doyle Kennedy is fabulous (and Duncan LaCroix was right there with her)! Parade Magazine asked me what I thought of the iconic stable scene, though, and so I told them what I thought.
I know a lot of people found it arousing and enjoyed it, and that's great—I'm all for people liking the show in all its manifestations <g>, and people being people, they're going to like different things.
That being so, let's respect each other's opinions—and I'd like to hear all of them!
So—what did y'all think of 506? (And have you ever eaten grasshoppers or locusts? I have. Once…)
Read "Outlander Fans Get the Sex Scene They've Been Hoping for, but Diana Gabaldon Thinks They Might Not Be Satisfied," by Paulette Cohn for Parade.com. Published on March 22, 2020.
Passage From the Parade article featuring Episode 506::
"As for Jamie and Claire's fight—and I suppose you would have to call it makeup sex, though as played, it was more or less a continuation of the fight—this is one of those 'iconic' scenes from THE FIERY CROSS," Gabaldon tells Parade.com exclusively.
"Those are the scenes that book readers particularly value, and spend months hoping will be included in the show. The book fans will be happy that it is included." However, the more nitpicky fans might be distracted. "I'm afraid it's one of those situations where they're so provoked by the omissions and changes that they may forget to be thankful."
---
Remember that if your response below (web comment) is approved, it will be posted PUBLICLY online for anyone to see.