---
Given that it is Thanksgiving… what are y'all making for dinner?
Ours is pretty traditional – fruit-stuffed turkey (no bread stuffing, because I hate stuffing and I do the cooking) roasted on a bed of apples, carrots, grapes and small potatoes, with rosemary-suffused olive oil rubbed under the skin. Candied yams, because… Thanksgiving. Mashed potatoes (I don't like those, either, but husband and younger daughter love them) with gravy (using the pan juices from the turkey, with broth from Penzey's chicken soup base). Butternut squash soup, made with butternut squash (reasonably enough), roasted tomatoes and roasted garlic (I bought a thumb of ginger this morning; debating the wisdom of adding just a tinge to the soup). Devilled eggs. Fresh berries. Olives and sliced peppers with a small antipasto platter (ham, deli-sliced roast beef and provolone, because younger daughter and I love roast beef sandwiches). A dish of pickled green asparagus and lightly salted white asparagus.
Pumpkin or apple pie for dessert, with home-made whipped cream. Oh, and champagne, of course. <g>
HAPPY THANKSGIVING!
-Diana
---
Please note that the Excerpt below may contain SPOILERS…
Social Media Hashtags: #DailyLines, #BookNine, #GoTELLTheBEESThatIAmGONE, #flashback, #Williamisseventeen, #WhataboutWilliamsThirdFather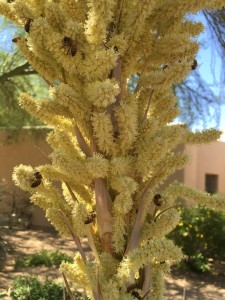 The upper gallery at Ellesmere. A broad, square open staircase led upward to the second floor. Here the roof soared high overhead, and a gallery surrounded the stairwell on three sides, with tall windows on one side and various portraits on the other three walls.
"Isobel told me this was painted soon after her marriage," Lord John had said, nodding to the portrait of a very beautiful young woman. The painter hadn't been particularly skilled—the woman's hair was simply dark, some color between brown and black, and her gown clumsily rendered—but William recognized her face; the same face he'd seen every day for years, in a miniature he'd carried with him from home to London, to school, and now would take with him to the army.
He thought the painter had loved her, perhaps; the face was done with both care and feeling.
"Someone told me I have her mouth," he said, softly, as though not to startle her.
"You have," said Lord John, raising a brow. "Who told you that?"
"Mother Isobel." He turned away from the portrait, feeling suddenly unsettled. "It seems strange to see her—Mother Geneva—here, alone." There were several portraits of her at Helwater—but always portraits done with her younger sister, with her parents. Even the portraits of her by herself were always side by side with similar portraits of Isobel.
"So it does." Lord John spoke softly, too. It was hushed as a church here on the landing, an illusion enhanced by the tall, quiet windows with their stained-glass borders. And by the fact that everybody in these pictures is dead…
He turned restlessly away, toward the opposite wall, across the open well of the staircase. The wall was dominated by a large portrait of an elderly man in a formal wig and the robes of an Earl. Not bad looking for his age, William thought. Bit of a tough, though, from his expression. The thought made William smile.
"That's him, is it? My father?"
---
Selected Social Media Comments:
…about this excerpt from Book Nine, with my responses… <g>
Wait…didn't William find out Jamie was his father in book 7 or 8? Editing to add that I was so excited to read the daily lines that I missed the hashtag.
#Thatllteachyalltoreadthehashtags!
Love the snippet. Can I ask what the yellow plant in the image is? A bottlebrush?
Beargrass!
---
Click here to visit my BEES (Book Nine) webpage.
---
These "Daily Lines" (or "excerpt") and comments were first posted on my official Facebook page on November 20-21, 2017.