---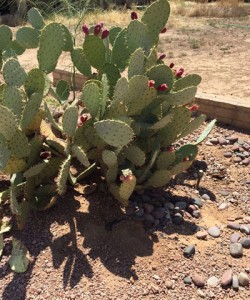 It is—plainly—the Dog Days of summer. When I got home from Calgary last night (at midnight), the first thing my husband said to me was, "Welcome to Hell!" It was 117 degrees (F.) last Friday (which was OK, because I was in Calgary, where the inhabitants kept apologizing for the <ahem> "heat" (it was about 85)), and 112 or so today.
Still, many things thrive in this climate—including prickly pear cactus (above) and geckos (right). This little pink guy (he's about three inches long) is one of the family of office geckos who live in my cabinets, where they helpfully eat the little caterpillars who pupate between the pages of books and infest my chocolate supplies.
Dachshunds aren't that wild about heat (neither would you be, if you were black and furry), but they still want to go out every day and hunt lizards and toads. I fill the tree basins while they do that, and while they aren't wild about baths, cooling their tummies in a muddy puddle is a whole different thing.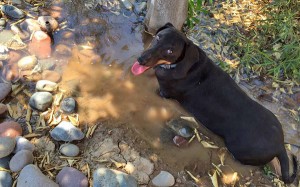 Note: This blog entry was also posted on my FaceBook page on August 18, 2015 at 3:48 a.m.