---
From the Los Angeles area this week with Ron, Maril, and the stars, staff and crew from the Outlander series…
The Outlander TV series is nominated for three Golden Globes for its first season! MASSIVE congratulations to everyone—cast, crew, and fans <g>who've made the show the wonderful thing that it is! Wish us Luck!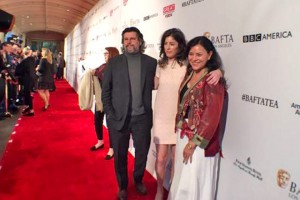 There's Stuff going on every day: the TCA (Television Critics Assn.) (and a zillion follow-up interviews) on Friday, the STARZ pre-Golden Globes party Friday night, the BAFTA Tea on Saturday (that's me above with Maril and Ron, on the red carpet). And the awards ceremony will be broadcast live TODAY at 5 p.m. (Pacific Time), with red carpet coverage beginning at 4 p.m. (More information below).
Blue Suede Shoes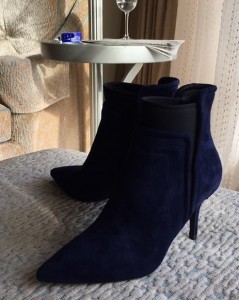 Either Sam and Catriona have grown, or I've shrunk… Actually, I just took my shoes off at last night's STARZ pre-Golden Globes party. I'd bought some pretty new pointy-toed blue suede shoes (yesterday was Elvis's birthday…), which do in fact fit very well, but they're not best suited for standing for hours in conversation. So I ditched them next to a divan (this party happened at the Chateau Marmont, a classic old Hollywood hotel, and they had decorated the party venue on a patio that looked like a sheik's boudoir—enbroidered divans and pillows everywhere, with little round Turkish-looking tables a foot high. I suppose we were meant to sit on the divans, but they looked so much like beds (and were so low) that no one did, so we stood up all evening). When I retrieved them, I found that someone had spilled a drink in one of them—poured it out when I went out to find my driver; no harm done. But it did mean I was about two feet shorter than everyone at the party! Comfortable, though…
Outlander TV Show's Nominations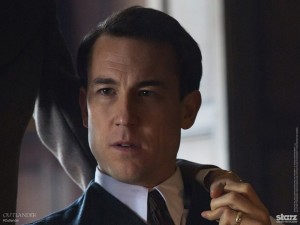 Outlander's Golden Globe Nominations are:
"Best Television Series – Drama" Update: The winner of this category is "Mr. Robot."
Catriona Balfe (above, with Sam Heughan and I) is nominated for "Best Performance By An Actress In A Television Series – Drama," for her portrayal of Claire Beauchamp Randall Fraser. Update: The winner is Taraji P. Henson, from Empire.
Tobias Menzies (at right) is nominated for "Best Performance By An Actor In A Supporting Role In A Series, Limited Series, or Motion Picture Made for Television" for his portrayal of Black Jack Randall and Frank Randall. Update: The winner of this category is Christian Slater.
The Starz network received six Golden Globe nominations in total, with Outlander garnering half of them.
---
Live Schedule: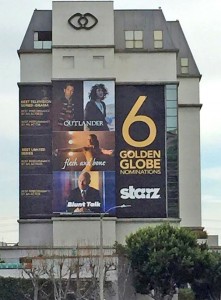 NBC's live broadcast schedule of the Golden Globe Awards is:
4 p.m. (PT): NBC's red carpet pre-show begins. Coverage of stars, producers, and authors in their glamourous gear walking by on the Red Carpet! On the east coast, this live program begins at 7 p.m. (ET).
5 p.m. (PT): 2016 Golden Globe Awards – the main awards begins, a three-hour show. It will be broadcast live from the Beverly Hilton Hotel in Beverly Hills. On the east coast, the live show will begin at 8 p.m. (ET). Check your local schedule to confirm.
In the U.S.A., you have paid cable or satellite TV, look for NBC in your channels guide. Or, if you use an HD antenna to access free TV broadcasts, look for the broadcast NBC affiliate in your area.
If you live in Chicago, Dallas, Los Angeles, Miami, New York, Philadelphia, or San Francisco and subscribe to Playstation Vue, you may be able to legally stream NBC online. Other than that, NBC is not streaming the show. Some cable networks are streaming shows covering just the red carpet before the show, though.
---
Where to Watch – Outside the U.S.A.
Some cable subscribers outside the U.S. will be able to see the show. Foxtel in Australia will show the event. In Canada, CTV will broadcast it. However, watching the show won't be available in the United Kingdom, even though the event host, Ricky Gervais, is from there. To be sure, wherever you live, CHECK with your local provider to see if and when the awards show will be shown in your area.
The main NBC site for the broadcast of the awards show is:
http://www.nbc.com/the-golden-globe-awards

---