---

PBS would like me to remind you about The Great American Read—which I'm delighted to do. The Great American Read is a "new television series, competition and nationwide campaign which explores the power of books and the joy of reading through the lens of America's 100 best-loved novels, as voted on by the public."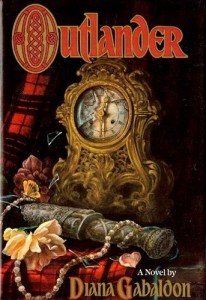 Thank you, PBS, and all the readers across the U.S.A. who chose OUTLANDER in the initial survey as one of the 100 most-loved American novels!
The Great American Read program series was launched on PBS on May 22, 2018 when the list of 100 favorite books was revealed in the first two-hour broadcast episode.
Over the summer and into the fall, you will have time to read all 100 books if you choose. Plus you are invited to vote daily and help choose America's favorite novel from the list of 100! Online voting began on May 22, and will end on October 18, 2018 at midnight (Pacific Time).
Print a checklist of the 100 books.
I should mention—because I got it wrong last time I posted a reminder—that you may vote for any number of books from the list on any given day—you just can't vote more than once per day for any single book.
Five one-hour 'themed' episodes will be aired in the fall which examine concepts common to the groups of books on the list.
During The Great American Read series finale—to be aired on PBS on October 22—results of the nationwide vote to choose America's best-loved book (or book series) will be announced!
---
Vote Using The PBS Website:
So, should you feel moved to vote for your favorite book(s), one method is to visit the PBS voting webpage. With this method, you can vote for multiple favorite books each day! (Only one vote per day per favorite book…)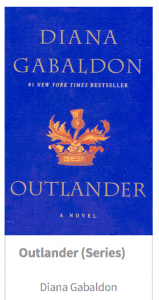 Go to: https://www.pbs.org/the-great-american-read/vote/

At some point during the first time you vote, you will be asked to log in. You may use your email address, your Facebook or Google login, or your PBS member account. (Logins are required so that PBS may limit voting to only once per day pr person per book, and to readers in the U.S.A.) After this first login, voting using the website should be only a few clicks if using the same phone, tablet, or computer.

Scroll down through the 100 books with images of their covers and click on your favorite(s) to vote. To vote for OUTLANDER, scroll down until you see it listed (with the example cover shown at right). Note that on this PBS voting webpage, the text on the icon for OUTLANDER says "Outlander (series)".
Click on the "Vote" button.

Once you vote on a book on the PBS voting webpage, a confirmation window will appear.

Click on the "Confirm" button to finish casting your vote for a book.

If you don't confirm, your vote won't be counted!

You may vote for multiple books each day, repeating the steps above.
---
Vote Using Facebook or Twitter:
Or you may vote for OUTLANDER using your Facebook or Twitter account using this special hashtag:
#VoteOUTLANDER
in a new entry you have created and posted.
To vote for your other favorite books on social media, download a list of voting hashtags (PDF format) for all 100 books.
---
Need more information? Click here for full voting details from the PBS website, or see the links below.
Thanks for your attention! Happy reading!
-Diana
---
More Information on The Great American Read: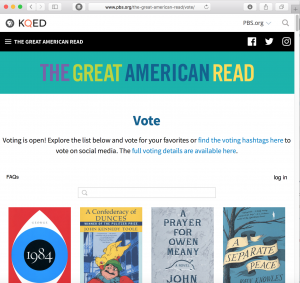 From the PBS website:
"THE GREAT AMERICAN READ is an eight-part series on the PBS network in the U.S.A. that explores and celebrates the power of reading, told through the prism of America's 100 best-loved novels (as chosen in an initial national survey). It investigates how and why writers create their fictional worlds, how we as readers are affected by these stories, and what these 100 different books have to say about our diverse nation and our shared human experience. The television series features entertaining and informative documentary segments, with compelling testimonials from celebrities, authors, notable Americans and book lovers across the country.
"The series is the centerpiece of an ambitious multi-platform digital, educational and community outreach campaign, designed to get the country reading and passionately talking about books."
---
Links:
The Great American Read home page: https://www.pbs.org/the-great-american-read/
Click for full voting details from the PBS website.
Visit the official Facebook page of The Great American Read series athttps://www.facebook.com/GreatReadPBS/
Click to view Resources for The Great American Read including learning materials, streaming of episodes already aired, information on a special book club, artwork to download, sign up for a special newsletter, and more.
On Facebook and Instagram, for more information and to stream and watch episodes already aired, search using the hashtag: #GreatReadPBS
Click for Frequently Asked Questions about the Great American Read, on the PBS website.
"PBS launches 'The Great American Read' to find the nation's favorite novel," by Jocelyn McClurg for USA Today. Article posted on April 20, 2018.
---
This post was last updated on Thursday, May 31, 2018 at 3:20 a.m. (PT). by my Webmistress.