---
Sunday, March 18, 2018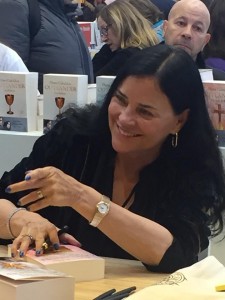 Had a wonderful four days with fans in Le Paris! (Or is it La Paris? I learned to read French in graduate school—lo, these many years ago… and can still read newspapers, signs and the descriptive cards next to Museum exhibits. After several days listening to French, I can understand about half of what people are saying. Unfortunately, I have NO grammar, so can't talk back to them, save for things like "C'est fini!" and "C'est mon plaisir.")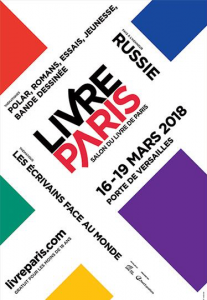 Signed books at the Paris Book Fair for five and a half hours straight today, with minor interruptions for interviews with bloggers. (And before you ask, en masse (see, that's French!), no, thanks for asking but I don't have carpal tunnnel—you don't move your wrist at all when signing your name (try it and see). My index and middle finger are stiff, (I did four hours at the PBF on Friday, then signed at two local bookstores yesterday—FNAC and the fabulous La Griffe Noir), but it's actually your forearm tendons that take the brunt of heavy-duty signing. After three or four hundred books, if you placed your hands on my forearms, you'd notice that the right one is about four degrees warmer than the left!
Met wonderful people from everywhere: Mumbai, Goa, Lisbon, the Netherlands, Normandy, Lorraine,Spain (was pleased to be able to speak Spanish in front of my hosts from J'ai Lu (French publisher)—not a monoglot American!), who loaded me with wonderful gifts that I can't possibly cram in my suitcase; will have to ship most things home, but plan to take ALLLLLL the chocolate and wine with me… (Merci beaucoup!)
Tomorrow, I have the morning off, so Doug and I can go see a museum or stroll the Champs Élysées (in the falling snow and sub-freezing temperatures)—I managed a quick dart into L'Orangerie Friday morning, to see Monet's beautiful elliptical rooms of water lilies (and several more fantastic Impressionists and slightly post-Impressionists downstairs), but Paris has a LOT of great museums.
Then in the afternoon, we catch a train to Nancy, where we'll do a signing at (I think) 5:00 p.m., and come home late. Tuesday, though, is completely free, so planning what to do with our time…
And to answer all the eager questions about when is the next book coming out… as I said to the thousands of people I've seen this week: "You know, you've got a choice: You can have the next book faster, or you can look at me. <pause> Are you looking at me?"
In other words, it's great fun to come and talk to people, see great cities and eat wonderful food (even if you don't get any of it until supper…. I highly recommend the Plume restaurant, btw; fantastic Beef Wok tonight! And Mipi (Neapolitan Mini-Pizzas, last night))—but that's why I DON'T accept most of the zillion (not exaggerating; it's definitely at least that many) lovely invitations I get. Tonight is the first night in five days that I've been able to get up in the middle of the night and do a little work. So now I'm going to go do that…. Á bientot!
P.S. Check out my new essay: "One Word Speaks Volumes (Themes of the Books)" which discusses one-word descriptions of the novels in my OUTLANDER series.
---
This blog was posted on my official Facebook Page on Sunday, March 18, 2018.