---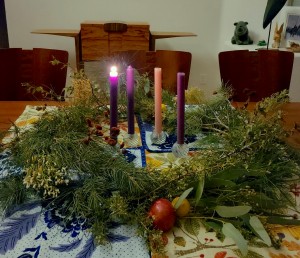 Today is the First Sunday of Advent. Advent is a four-week space in time, during which we draw aside from the world in preparation for the light of Christmas.
Whatever we suffer in grief, illness, fear, anger, in longing for home, for love—Advent offers us respite, a refuge, a small place of rest, repentance, reconciliation and peace.
A time to be still and listen to our hearts.
[Excerpt from WRITTEN IN MY OWN HEART'S BLOOD, Copyright © 2014 by Diana Gabaldon.]
"Are ye all right, Sassenach? Is it bad, then?"
"No," I said, and wiped my eyes hastily on a corner of the sheet. "No—it—it's fine. I just&,dash;oh, Jamie, I love you!" I did give way to tears, then, snuffling and blubbering like an idiot.
"I'm sorry," I said, trying to get hold of myself. "I'm all right, there's nothing wrong, it's just—"
"Aye, I ken fine what it's just," he said, and, setting the candle and pot on the floor, lay down on the bed beside me, balancing precariously on the edge.
"Ye're hurt, a nighean," he said softly, smoothing my hair off my wet cheeks. "And fevered and starved and worn to a shadow. There's no much of ye left, is there, poor wee thing?"
I shook my head and clung to him. "There's not much of you left, either," I managed to say, mumbling wetly into the front of his shirt.
He made a small amused noise and rubbed my back, very gently. "Enough, Sassenach," he said. "I'm enough. For now."
I sighed and fumbled under the pillow for a hankie to blow my nose.
"Better?" he asked, sitting up.
"Yes. Don't go, though." I put a hand on his leg, hard and warm under my hand. "Can you lie with me a minute? I'm awfully cold." I was, though I realized from the damp and salt on his skin that the room was quite hot. But loss of so much blood had left me chilled and gasping; I couldn't get through a sentence without stopping to breathe, and my arms were permanently goose-pimpled.
"Aye. Dinna move; I'll go round." He came round the bed and edged carefully in behind me. It was a narrow bed, barely wide enough to hold us closely pressed together.
I exhaled gingerly and relaxed against him in slow motion, reveling in the feel of his warmth and the solid comfort of his body.

"Elephants," I said, drawing the shallowest possible breath compatible with speaking. "When a female elephant is dying, sometimes a male will try to mate with her."
There was a marked silence behind me, and then a big hand came round and rested assessingly on my forehead.
"Either ye're fevered again, Sassenach," he said in my ear, "or ye have verra perverse fancies. Ye dinna really want me to—"
"No," I said hastily. "Not right this minute, no. And I'm not dying, either. The thought just came to me."
He made an amused Scottish noise and, lifting the hair off my neck, kissed my nape.
"Since ye're no dying," he said, "maybe that will do for the moment?"
I took his hand and placed it on my breast. Slowly I grew warmer, and my chilly feet, pressed against his shins, relaxed. The window now was filled with stars, hazy with the moistness of the summer night, and I suddenly missed the cool, clear, black-velvet nights of the mountains, the stars blazing huge, close enough to touch from the highest ridge.
"Jamie?" I whispered. "Can we go home? Please?"
"Aye," he said softly. He held my hand and the silence filled the room like moonlight, both of us wondering where home might be.
---
This blog entry was also posted on my my official Facebook page on November 29, 2020, the first Sunday of Advent.
Image of Advent candles by Diana Gabaldon © 2020.