---
GoFundMe Campaign for Paxton Gate PDX Employees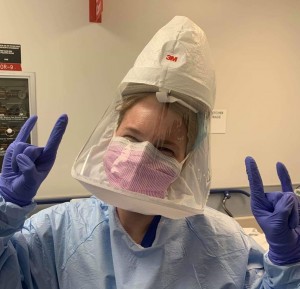 Here is a small, offbeat request from the front lines.
At right, this is Eldest Daughter, Laura Watkins, OR Nurse—whom you may know better as the author of TALES FOR GULLIBLE CHILDREN on my Methadone List, who said:
"Hey Mom, you're probably being deluged with requests to donate to laid-off workers' funds right now, but if you could maybe tweet this one, it would really help the furloughed crew at Paxton Gate PDX, which is that super cool natural history shop we went to the last time you were in town:
https://www.gofundme.com/f/paxton-gate-portland-employee-relief-fund
"It's a small thing, but it's important because it's a magic place, and we need to know there still is magic in the world right now, and keep a place for it to happen."
So here it is. Laura's right that there are a LOT of very worthwhile donation requests (and I answer the ones I can), so I thought I'd put up her request.
If you'd like to learn more about Paxton Gate PDX, the store, here is their home page:
---
Floral Print Road Warrior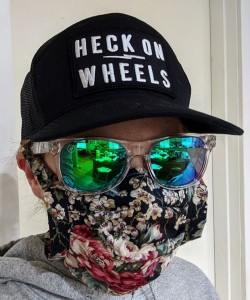 My daughter Laura also asked me to send a big Thank You for all of the kind comments of support for her and the other healthcare professionals dealing with the ongoing crisis.
And thank you for the kind efforts of so many of you who are making non-surgical masks for people who need to go out in public. In Laura's words, "One of my friends hooked me up with one, resulting in a grocery-getting look that I'm calling "Floral Print Road Warrior." Image at left.
Fashion rules!
---
Making Masks!
If you sew and would like to make masks, Dr. Jeanne Schneider (a friend of my Webmistress) shared this website below which has free patterns you can use to make masks for yourself and your family, and/or to share with health professionals and others who need them:
https://www.craftpassion.com/face-mask-sewing-pattern/
Happy Sewing!
---
More Masks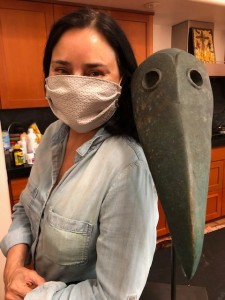 At right, this is actually a contemporary piece—it's a bronze by an artist named Hib Sabin, and is called "Raven Mask (Large)."
We've always called it the Plague Doctor, though, for obvious reasons…
---
Information in this post also appeared on my official social media accounts.