---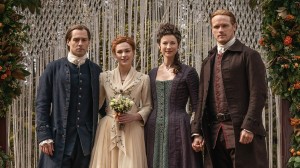 So—premieres are upon us! We all had a wonderful time at the New York Season 5 premiere on February 11th, and will doubtless have a great time tonight in Los Angeles!! [Both premieres were special events planned by STARZ.]
My husband and I had a great time last night in L.A., celebrating our 43rd/48th anniversary (43 years legal, I mean, but we've been together for 48 years.)
Meanwhile, here are a couple of clips from the Good Morning America show this week, the first interview with Caitriona and Sam, and the second with Rik and Sophie. Hope you enjoy them—and I'll let you know tomorrow (February 14) what-all happens at tonight's premiere! (Look forward to seeing as many of you as possible!)

Above: Interview with Sam and Caitriona on GMA. (Youtube video)

Above: Interview with Ric and Sophie on GMA. (Youtube video)
---
Outlander Season 5 Debuts On STARZ on February 16!
In Season 5, Jamie Fraser must fight to protect those he loves, as well as the home he has established alongside his wife, Claire Fraser, their family, and the settlers of Fraser's Ridge.
In the U.S.A., Outlander Season 5 will debut on the STARZ cable network and streaming channel on Sunday, February 16. The first episode is titled, "The Fiery Cross,", and this season is mostly an adaptation of my book with the same name.
In Canada, Season 5 will also debut on Sunday, February 16, but on the W Network.
Outlander Season 5′s first episode will be available in Australia on Foxtel's Fox Showcase channel on Monday, February 17th.
In the United Kingdom, the first episode of Season 5 will be available on Monday, February 17th on Amazon Prime (U.K.)
See my Where/How To Watch webpage for more details.
Other providers around the globe will be added when known. Please contact your local cable or streaming provider for more information.
---
The image above is from episode 1, season 5 of the Outlander TV series. Courtesy of STARZ.