---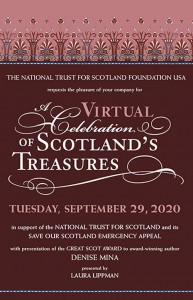 September 29th, 2020 from 7 p.m. to 9 p.m. (Eastern Time or EDT in the U.S.A.) — is the first Virtual Trust for Scotland/USA Gala! (i.e., it's the first time they've had to do it virtually—it happens every year, normally in New York, but physically.) It's a fundraiser to help support Scotland's natural and cultural heritage, and includes a live auction.
They've asked me to share the link with you all (below), and note that while the usual donation asked is $150 (which will, among other things, sponsor a puffin), you can go ahead and register without donating. The website for the event is:
https://ntsusa.org/about-us/celebration-gala/
You do need to sign up before the event on the website. If you don't want to donate, click the box that says "No, thanks" when it asks for a credit card number.
-Diana
From The Scotland Treasures Website
From the National Trust for Scotland Foundation USA website:
Each April, The National Trust for Scotland Foundation USA's A Celebration of Scotland's Treasures gala raises thousands of dollars to support the conservation of Scotland's natural and cultural heritage. Because we were unable to gather in New York this spring – our milestone 20th anniversary year – due to the coronavirus pandemic, we missed the opportunity to raise vital funds on behalf of the National Trust for Scotland.
Committed to helping the Trust weather this time, we are delighted to host our first-ever virtual event and invite you to join us here on Tuesday, September 29, for an evening of special performances, updates from Scotland, and a live and silent auction. Moving our celebration online will allow us to highlight more of the Trust's work on the ground in Scotland – especially at sites like Glencoe and Culloden that hold special meaning for Americans.
The highlight of the program will be the virtual presentation of the Great Scot Award by New York Times best-selling author Laura Lippman to Scottish crime novelist Denise Mina, author of Conviction and The Long Drop.
Proceeds from A (Virtual) Celebration of Scotland's Treasures will support the international campaign to Save Our Scotland. This year, the Trust is expected to lose over $35 million in earned income from the closure of our historic sites due to the coronavirus pandemic. Together, we can ensure the future of the Trust and its irreplaceable natural and cultural treasures.
---
If you choose to add a comment to this blog post, please stay on the topic discussed here. And keep in mind that all comments that are approved in moderation will be posted publicly on the web. Thanks!