---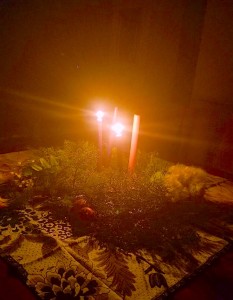 Today is the second Sunday of Advent. Whether we live in peace or in times of chaos, uncertainty and danger, we need someone to trust, to love, and to trust to love us. We light our second candle tonight in that trust, knowing that Love awaits.
[Excerpt from OUTLANDER, Chapter 15, REVELATIONS OF THE BRIDAL CHAMBER. Copyright © by Diana Gabaldon.]
"Are you all right?" he whispered. His fingers brushed my wet cheek.
"Yes. I'm sorry to wake you. I had a nightmare. What on earth—" I started to ask what it was that had made him spring so abruptly to the alert.
A large warm hand ran down my bare arm, interrupting my question. "No wonder; you're frozen." The hand urged me under the pile of quilts and into the warm space recently vacated.
"My fault," he murmured. "I've taken all the quilts. I'm afraid I'm no accustomed yet to share a bed." He wrapped the quilts comfortably around us and lay back beside me. A moment later, he reached again to touch my face. "Is it me?" he asked quietly. "Can ye not bear me?"
I gave a short hiccupping laugh, not quite a sob. "No, it isn't you." I reached out in the dark, groping for a hand to press reassuringly. My fingers met a tangle of quilts and warm flesh, but at last I found the hand I had been seeking. We lay side by side, looking up at the low beamed ceiling.
"What if I said I couldn't bear you?" I asked suddenly. "What on earth could you do?" The bed creaked as he shrugged.
"Tell Dougal you wanted an annulment on grounds of nonconsummation, I suppose." This time I laughed outright.
"Nonconsummation! With all those witnesses?" The room was growing light enough to see the smile on the face turned toward me.
"Aye well, witnesses or no, it's only you and me that can say for sure, isn't it? And I'd rather be embarrassed than wed to someone that hated me." I turned toward him.
"I don't hate you."
"I don't hate you, either. And there's many good marriages have started wi' less than that." Gently, he turned me away from him and fitted himself to my back so we lay nested together. His hand cupped my breast, not in invitation or demand, but because it seemed to belong there.
"Don't be afraid," he whispered into my hair. "There's the two of us now." I felt warm, soothed, and safe for the first time in many days. It was only as I drifted into sleep under the first rays of daylight that I remembered the knife above my head, and wondered again, what threat would make a man sleep armed and watchful in his bridal chamber?
---
"The First Sunday of Advent – 2020" is a related blog entry and WRITTEN IN MY OWN HEART'S BLOOD excerpt that I posted on November 29, 2020.
This blog entry was also posted on my my official Facebook page on December 6, 2020, the Second Sunday of Advent.
---
Image of Advent candles by Diana Gabaldon © 2020.