---
Filming Continues!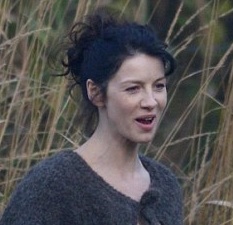 Starz released a first look at Claire (actress Catriona Balfe) in period clothing on the set of the new OUTLANDER TV series this month!
Diana discussed the TV series on Facebook and what was said by production staff during the New York Comic Con panel in October. The new TV series will apparently not debut in the spring of 2014 as originally planned, but will be released "later," probably in the summer of 2014.
Is OUTLANDER a sci-fi story? Fantasy? It's been called a genre bender by more than one reviewer. While reporting on the filming and production of the series this month, reporters still try to stick the beloved story into one category or another. (It's fun to see them try!) Here are some highlights from this month:
---
Return to Outlander TV Series News – main page.
---
This page is maintained by Loretta, with input from Diana, Susan, and Starz. It was last updated on Monday, January 2, 2014 at 10:10 p.m. PDT.