---
Kick Up Your Kilts!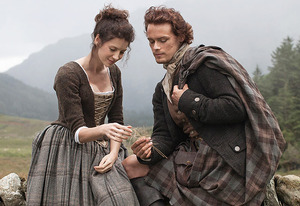 "Kick up your kilts, Outlander fans," said Kate Hahn of TV Guide on December 30. "Your dreams have finally come true. Battlestar Galactica executive producer Ronald D. Moore is set to bring the wildly popular fantasy novels by Diana Gabaldon (more than 20 million copies sold!) to life." As Diana works hard to finish writing the eighth major novel in the Outlander series in time for its release in June, 2014, production of the TV series on location in Scotland went into high gear:
---
Return to Outlander TV Series News – main page.
---
This page is maintained by Loretta, with input from Diana, Susan, and Starz. It was last updated on Monday, January 2, 2014 at 10:10 p.m. PDT.