---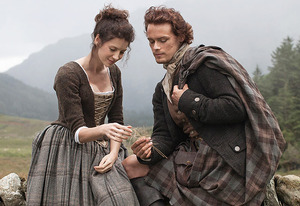 Tartans and talk shows are some of the hot topics from March, 2014! Want to buy a kilt just like Jamie's? Or a tartan skirt like Claire's? The Scottish company supplying the authentic 1700s tartan fabric for the TV series costumes is reportedly discussing future merchandising plans with Starz and Sony. At right is an image from the TV series which shows some of the custom tartan fabric used in costumes. Ron Moore, Executive Producer of the Outlander TV series, appeared on the Carson Daly show to discuss the shows he is working on. Starz released a new Outlander trailer, and other selected news stories:
"Tartan Company in Line for Lucrative TV Merchandise Deals," by Greig Cameron for the Herald (Herald Scotland). Anthony Haines Textiles has created about 500 meters of custom tartan cloth so far for costumes used in the Outlander TV series, fabric which is carefully woven and dyed to duplicate the look and feel of tartans from the 1700s. This article reports that the Scottish business is in talks with the Starz television network and Sony over potential merchandising tie-ins, which could have a huge effect on the company if the series is a hit, especially since fans of Diana's books are already sending emails to the company asking if they can buy tartan items! Published on March 20, 2014.
Violence, Romance Teased in 'Outlander' Trailer, by Alex Stedman of Variety.com. On the weekend of March 15-16, Starz released a new 30-second trailer showcasing the Outlander TV series, currently in production in Scotland. Posted on Sunday, March 16, 2014.
"Former River City actor Sam Heughan on becoming heart-throb and filming on his home turf for starring role in Outlander TV series," by Paul English for the Daily Record. Actor Sam Heughan discusses what it's like to portray Jamie Fraser in the Outlander TV series, including the adoration of thousands of enthusiastic fans of Diana's books. "I feel like I've stepped on a roller coaster and not got off it yet," he says. Published on Wednesday, March 12, 2014.
On Tuesday, March 11, 2014, Executive Producer Ron Moore was interviewed on Last Call with Carson Daly, a popular late-night talk show in the U.S.A. Moore discussed Helix, which is being broadcast on the SyFy network and the Outlander TV series, currently in production which will debut some time in the summer of 2014 on Starz.
---
This page was last updated on Monday, August 4, 2014 at 5:56 p.m. (PDT)