---
Outlander Summer!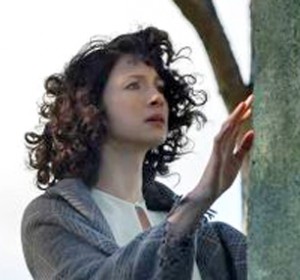 It's an Outlander summer! The eighth major novel in the OUTLANDER saga was released on June 10, and Diana began traveling on an international book tour on the next day. Then it was announced that a special red-carpet premiere of the series with Diana, Executive Producer Ron Moore, and the cast will be held at Comic Con in San Diego! Below are more selected news media stories about Diana and the TV series:
A little bit of fun! Outlander co-stars Sam Heughan (Jamie Fraser) and Catriona Balfe (Claire Beauchamp) play a game of "Co-Star Challenge" in a video on People magazine's website. The actors seem to have fun quizzing each other about their characters and each other. The magazine's title and blurb for the video is "Co-star Challenge Fail? Outlander's Sam Heughan & Caitriona Balfe Flunk Our Quiz. However, the Scottish hunk and Irish lass crack us up during their turn at the game!" Posted on June 29, 2014.
Outlander TV Adaptation Won't Shy Away From Spanking, by "Geek's Guide to the Galaxy," for Wired magazine (wired.com). Listen to a podcast interview with Diana on Episode 118 of "Geek's Guide to the Galaxy," in which Diana discusses the new Outlander TV series, her books, her readers, and other topics. Posted on June 28, 2014.
Starz has created an on-line Outlander Community which is "for readers and fans, a social destination which aggregates the latest OUTLANDER content across Facebook, Twitter, Instagram, Pinterest, and fan blogs," according to an article by Adam Flomenbaum on Lost Remote (lostremote.com). The site has a feature called the Apothecary Cabinet which allows users to explore plants and herbs used during the 1700s when modern medicine wasn't available. Is the new Outlander community site popular? Erin Dwyer, Executive Director for Digital Marketing at Starz, reportedly told Flomenbaum by email that "OutlanderCommunity.com visitor numbers are outpacing five of our other Original programming experiences in lifetime visits and we haven't aired yet!" Posted on June 26, 2014.
On June 25, Diana said, "Good news for Australian fans! The OUTLANDER TV series will premiere in Australia on Thursday, August 14, at 8:30 p.m. (AEST), on Foxtel's SoHo cable network." Visit Foxtel's Outlander series page.
"OUTLANDER on TV: Author's 'Dream Come True,'" by Bob Minzesheimer for USA Today. Diana discusses how excited she is about the TV version of Outlander, and discusses her cameo in the series. Besides the print version of the story, there is also a separate video interview with Diana. Published on June 24, 2014.
Praise Diana Gabaldon's OUTLANDER success— but don't use the 'R' word, by Joy Tipping for the Dallas News (dallasnews.com). An interview in which Diana discusses her Outlander series and how she got started, and how she doesn't like for her books to be labelled with the 'R' word – as in the 'Romance' book category. Published on June 20, 2014.
Outlander To Have A Red Carpet Premiere During ComicCon 2014! by Jolie Lash, for AccessHollywood.com. Those who are lucky enough to have a ticket for the 2014 San Diego ComicCon will have a chance to witness the premiere of the new Outlander TV series on Friday, July 25, replete with a traditional red carpet, the fabulous stars of the series, Executive Producer Ron Moore, and Diana! A panel discussion will follow the premiere viewing. (The TV series' U.S. broadcast debut is scheduled for August 9 on the Starz cable network.) Published on June 19, 2014.
'Written in MDiana's Book Toury Own Heart's Blood' author Diana Gabaldon will appear on the Starz "Outlander' TV series, by Molly Driscoll for the Christian Science Monitor (csmonitor.com). Article about Diana's cameo in the Outlander TV series. Published on June 18, 2014.
Outlander Wins Critics' Choice Award. The new Outlander TV series receives its first award, as Most Exciting New Series!
Critics' Choice TV Awards Name Top New Series, Sets Ryan Murphy for Icon Honor, by Nellie Andreeva for Deadline Hollywood (deadline.com). Article discussing Outlander and the other new TV series that received Critics' Choice awards. Published on Monday, June 9, 2014.
"Outlander Author Diana Gabaldon Due in Sacramento," by Alan Pierleoni, for the Sacramento Bee. Great article with an interview with Diana, and information about her Sacramento book tour visit. When asked about going from being a scientist to a novelist, Diana said, "Art and science are the two faces of the same coin. They both exist on the ability to see underlying patterns in the chaos." Published on June 9, 2014.
Scotland Gets Its Own Game of Thrones, by Brian Ferguson for The Scotsman. The Scots are getting excited about the Outlander TV series! Minor correction: the article says the series "will be" filmed in Scotland, but has been in production in the country since fall of 2013. Published on June 6, 2013.
The Showcase cable network in Canada announced that the Outlander series premiere for their subscribers will be August 25! Click to visit the Showcase webpage for the Outlander series. Information from Diana.
---
This page last updated on Monday, August 4, 2014 at 5:46 p.m. (PDT).