---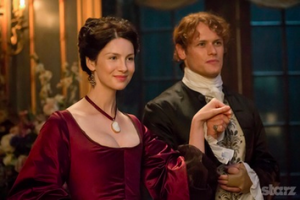 From Diana's Webmistress on Monday, April 4, 2016:
There's lots of celebration in the Big Apple during the week of April 3rd through the 9th, 2016, to celebrate the broadcast premiere of Season 2 of Outlander, including red carpet events and panel discussions featuring the cast and crew of Outlander, Tartan Week, and finally the broadcast premiere of Season 2 on April 9!
Here is a list of many of the NYC premiere events. Note that many may be watched live on the web!
Monday, April 4, 2016 – Season 2 Advance Premiere
A red carpet event with the cast and crew will showcase a screening of the premiere episode of Season 2, at NYC's American Museum of Natural History. A VIP After-Party with the stars and crew is also included.
Tickets are required (sold out), but you can join in live at 6:00 p.m. EDT via Facebook, courtesy of Entertainment Tonight:
https://www.facebook.com/EntertainmentTonight
(Use the FaceBook hashtag #ViveOutlander)
Those participating via FaceBook are invited to submit questions for the cast! More information on ET's coverage is in this article: Prepare to Freak Out, 'Outlander' Fans: ET Is Bringing You to the Season 2 Red Carpet With Facebook Live!
To Facebook Newbies: You will need to create a Facebook page in advance, if you don't have one already, to join in on ET's coverage.
---
Tuesday, Apr. 5 – Emmys Event
An invitation-only event in New York City will be held on April 5, beginning at 7:30 p.m. (EDT) for the members of the Television Academy and their guests, and features a panel discussion with the cast and crew of Outlander.
Everyone can watch via the web! The cast and crew discussion will be streamed live at:
http://www.emmys.com/events/scotland-paris-behind-scenes-journey-outlander
You're invited to a behind-the-scenes event as cast and crew discuss the thrill of creating the magnificent world of 18th century Paris and Versailles, including the meticulous work of the costume and set departments.

In addition, Emmy Award-winning composer Bear McCreary will perform his new theme for this second-season adventure.

Outlander Panelists:

Ronald D. Moore, Showrunner, Writer and Executive Producer
Maril Davis, Executive Producer
Terry Dresbach, Costume Designer
Jon Gary Steele, Production Designer
Bear McCreary,Composer
Caitriona Balfe (Claire Randall Fraser)
Sam Heughan (Jamie Fraser)
Tobias Menzies (Frank Randall/Jack Randall)
 

CBS news correspondent Michelle Miller will moderate the discussion.

---

Wed., April 6 – Caitriona Balfe on The Today Show

Caitriona Balfe ("Claire Randall Fraser"), star of the Outlander TV series, will discuss Season 2 of the Outlander TV series as a special guest on NBC's Today Show! The program begins at 9:00 a.m. EDT. See the NBC listing of your local cable, satellite, or broadcast provider to verify the program time.

---

Thurs., April 7 – Outlander Saks Red Carpet

The Outlander Saks Red Carpet event begins at 3:30 p.m. (ET).

Fans Welcome! Greet the cast and crew of the show! Fan viewing area is first-come, first served; fans may arrive beginning at 2:30 p.m. ET, located on 50th St. between 5th and Madison Avenue.

Stop by the Saks Fifth Avenue store before the event or any time through April 11th to see the beautiful window costume display, which features gorgeous clothing from Season 2!

Not in New York? On Twitter, follow @Outlander_Starz for the live coverage:

https://twitter.com/@outlander_starz

---

Fri., April 8 – Sam Heughan on "Live!"

See Sam Heughan ("Jamie Fraser"), star of the Outlander TV series, on "Live With Kelly and Michael," scheduled for 9 a.m. EDT.

Check your local cable, satellite, or broadcast listings in advance for details.

---

Sat., April 9 – Season 2 Broadcast Premiere (Starz)

The global broadcast premiere of Season 2 of Outlander will be on Starz in the U.S.A. at 9 p.m. local time for most areas. See:

http://www.starz.com/originals/outlander

Check your local cable, satellite, or streaming service for the channel and correct broadcast time for your area.

---

Sat., April 9, 2:00 p.m. – Tartan Week Parade

Scottish actor Sam Heughan, star of the Starz Outlander TV series ("Jamie Fraser") will be the Grand Marshal of the New York Tartan Day parade on Saturday, April 9.

Beginning at 2 p.m., bands, Pipers, Dancers, and Clans from Scotland throughout the United States and Canada are joining the Parade along with dozens of Scottish and West Highland Terriers.

"As Grand Marshal of the New York Tartan Day parade 2016," Sam said, "I am honored and proud to serve the city and its ancestral ties. I love the city, the people, and the vibe. Please join me in toasting all who live and visit there with a whisky and a toast!"

Heughan joins the illustrious alumni who have led the Parade, including Sir Sean Connery, Alan Cumming, Cliff Robertson, Brian Cox, Kevin McKidd, and most recently in 2015, fellow Outlander star Graham McTavish.

New York's Tartan Week will run from April 2nd to the 10th in New York City and includes a diverse range of events, from the Scotland Run through Central Park, to lunch-time concerts, business seminars, a Pre-Parade Ceilidh and much more. Check out the Tartan Week website:

Note: A Ceilidh ("kay-lee") is a social event at which there is Scottish or Irish folk music and singing, traditional dancing, and storytelling.
See: "Outlander" Star Sam Heughan Named Grand Marshal Of The 2016 NY Tartan Day Parade, by Kyle Dawson, for the New York City Tartan Week.

---

Global Season Two Premiere Dates

After the parties in New York, and the Starz premiere in the U.S. on April 9, Season 2 will debut in broadcast and streaming areas around the globe! Some are listed here:

http://www.dianagabaldon.com/other-projects/outlander-tv-series/where-to-watch/

Is your country or viewing area missing on the list? Please send your information to Diana's Webmistress. Thanks!

---

Outlander TV Series Links

---

I was unable to attend the Outlander Season 2 premiere festivities with the cast and crew due to a sudden illness of a family member. (Happily the surgery and recovery went very well. Thank you all for your healing thoughts and prayers!)

Please double check all dates and times listed, in case of typos! This page was last updated on Wednesday, August 17, 2016 at 7:13 p.m.