---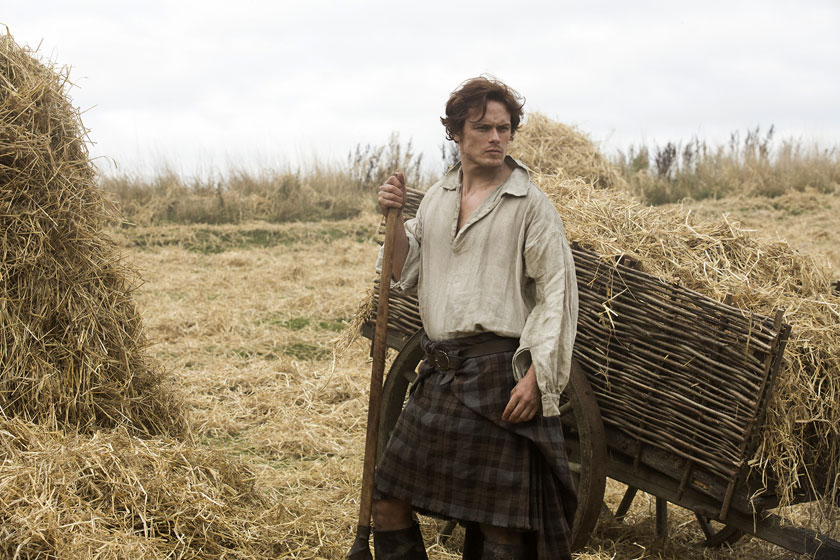 On October 24, 2013, the Starz network released the first image of actor Sam Heughan as Outlander's Jamie Fraser, above, a first look at an actor in costume on the set. The Starz Facebook post announced the photo:
"FOR THE BEST FANS IN THE WORLD. Here's what your wee hearts have desired. James Alexander Malcolm MacKenzie Fraser."
News media outlets quickly began publishing the image. The Outlander TV series began production on October 7, 2013, and will be shown on the Starz network in the spring of 2014. It is being filmed on location in Scotland.
Photographer: Ed Miller. Copyright © 2013 Starz Network.
Diana's Reaction to Sam Heughan As Jamie
At the 2013 New York Comic Con Starz panel, Diana Gabaldon said that at first she might have had a few doubts about casting Sam Heughan as Jamie, having only seen a few of his photos online via her iPhone while on the road with her husband.
Once she arrived at home a few hours later and loaded the audition video on her computer, she said, "I'm kind of watching [Heughan's audition video] through my fingers because I'm not sure what I'm going to see. Well, the first five seconds or so, I'm thinking, 'He looks great! He doesn't look anything like his photos!'"
Then, she says, something magical happened. "In the next five seconds, he's gone," Diana snaps her fingers…
"And it's just Jamie Fraser right there!"
This Photo In The News
Here are a few samples of this photo's release in the news:
---
This page last updated on Friday, August 21, 2015 at 11:02 p.m., PDT by Diana's Webmistress.