---
Social Media Hashtags: #DailyLines, #GoTELLTheBEESThatIAmGONE, #Book9, #laterthisyear, #Godwillingandthecreekdontrise, #backcovercopy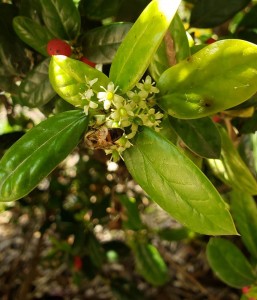 At the moment, aside from madly writing the last two sections of the book (and juggling the pieces of the third), I'm messing with some sort of back-cover copy for the U.K. paperback versions of BEES (which might also be part of the flap copy for the U.S. hardcover).
This is always a problem with my books, for obvious reasons. <g>
My lovely editor made a valiant stab at it, but it ended up as a two-sentence description of each of the main characters, first sentence stating the character's position at the end of the last book, and the second giving (what appears to be) their main motivation in this one. It's a perfectly good summary, but not real gripping in an "and then what happens?" sort of way.
I am, needless to say, not spending a Whole Lot of time on the problem, but as I juggle my pieces, it occurs to me that it may best be solved by the same technique I've always used to sell my books: free samples, i.e., I'm contemplating just using a brief (as in 250 words or less) excerpt from the actual text that—while not telling you a lot about the actual plot, would shove you forcibly into it. Here's one of my candidates:
[SPOILER alert just in case, because it is part of the actual text—though in fact there's nothing whatever spoilerish in the text itself...]
[Excerpt from GO TELL THE BEES THAT I AM GONE, Copyright © 2019 Diana Gabaldon.]
"
166 words, not bad…
---
My official webpage for GO TELL THE BEES THAT I AM GONE is:
http://www.dianagabaldon.com/books/outlander-series/book-nine-outlander-series/
My BEES webpage has links to all of the more than fifty excerpts (Daily Lines) that I have posted so far, and other information about this new book.
---
Thanks to Lorianne Cornwell for sending the lovely bee image!
This text and BEES excerpt in this blog entry are Copyright © 2019 by Diana Gabaldon. All Rights Reserved. You are welcome to share the web link (URL) to this blog entry, which is:
http://www.dianagabaldon.com/2019/05/bees-backcover/
But please do not copy and paste the entire text (or parts of it) and post it elsewhere. Thank you.
This blog entry was also posted on my official Facebook page on May 13, 2019.
---