---
Social Media Hashtags: #DailyLines, #GoTELLTheBEESThatIAmGONE, #YESYESYESYESYES!!!!, #WeHaveAPubDate, #And #It #Is… #NOVEMBER23rd #2021 #AndYesThisYear #YesInTimeForChristmas! #Hooray!!!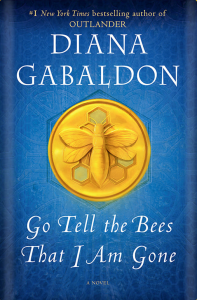 For those cavalier souls who don't read hashtags—Penguin Random House has decided on a publications date for GO TELL THE BEES THAT I AM GONE. (That's it, right there in the Social Media Hashtags banner overhead.)
The book will be released on November 23rd (yes, this year, yes, in plenty of time for Christmas), which is tidings of great joy, to be sure, but also—
You can pre-order the book now, should you want to!
Check out the announcement in an exclusive Entertainment Weekly's aritcle:
https://ew.com/books/outlander-go-tell-the-bees-that-i-am-gone-release-date-cover-reveal/
And YES, of course there is a link for ordering information for our U.K. readers:
https://www.penguin.co.uk/books/1109059/go-tell-the-bees-that-i-am-gone/9781780894133.html
(No, I don't have pub dates yet for the non-English editions; those will be set by the individual publishers in each country.)
---
Visit my webpage for GO TELL THE BEES THAT I AM GONE to access excerpts (aka "Daily Lines") that I have released from this new book:
http://www.dianagabaldon.com/books/outlander-series/book-nine-outlander-series/
Links to other vendors who are accepting pre-orders, including new hardcover ediitons signed by me, are also on my BEES webpage.