---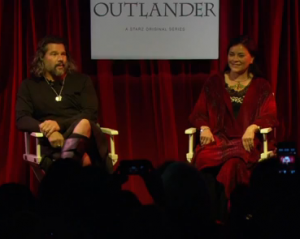 Thought you all might enjoy a glimpse of what's going on with the new cable-tv show (at least those of you in the US; this video was produced and posted by Starz, who are the US distributors of the show, and I'm afraid the video isn't viewable by other countries–yet. I'm hoping they'll figure out how to do that shortly, but it's not in my hands, sorry).
This video is a Fan Event put on by Starz while I was in New York last weekend at Comic Con, promoting the new show with Ron D. Moore, the executive producer and show-runner. You'll get at least a glimpse of the sets and characters and preparation going into the show–followed by 45 minutes of detailed Q&A with me and Ron. (At the upper right is a captured image of Ron and me from the video.)
And a little later this week, I'll be posting a round-up of the actors who have been announced so far, along with such photos and information as I have. _That_ will be available to everybody! Hope you enjoy it!