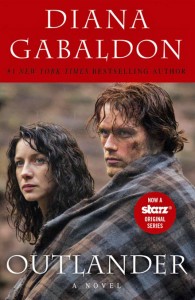 OK. This is the new Starz TV tie-in cover for OUTLANDER—for the U.S. (The foreign markets may get slightly different covers; I don't know for sure yet.)
No, the book itself hasn't changed in the slightest; it just has a new cover to advertise the upcoming show (which as previously noted, airs on August 9th–in the US. If you're not in the U.S.A., please check this page on global publishing or read my blog from November 15, 2013, where you will find out about international sales of the series.
This tie-in edition will be printed both as trade paperbacks (the large size) and mass-market paperbacks (the smaller size).
(Those who like the original cover(s) needn't fret—those covers will all remain in print. This is an addition, not a replacement.)
Cool, huh? <g>