---
Dear Readers and Fans of the Outlander tv series,
Thank you so much for all of your sweet birthday wishes!
My 70th birthday on January 11, 2022, was a very happy one, and I celebrated it with my husband and family.
Blessings to each of you,
Diana
---
Original post from Diana's Webmistress:
HAPPY BIRTHDAY, DIANA!
Today is her 70th birthday. If you'd like to send her a greeting, there are two ways: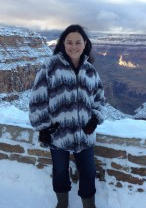 Send birthday wishes to Diana in a public web comment using the form below on this blog post, where it says "Leave a Response." The comments are moderated so your comment will appear in a few hours. ("Moderated" means someone makes sure a human wrote the comment and it isn't spam.)
And/Or send an email to Diana at dgabaldon@aol.com. Emails are not public.
Diana reads all emails and web comments and loves to hear from you.
---
Myth and Mountain Birthdays
If you haven't read it already, Diana's essay titled "Myth and Mountain Birthdays" describes how her young parents met and married, and tells the story of her birth in northern Arizona on "the coldest day of the year:"
http://www.dianagabaldon.com/about-diana/myth-and-mountain-birthdays/
Image at upper right: Diana at the Grand Canyon in winter. Photo by her husband, Doug.