---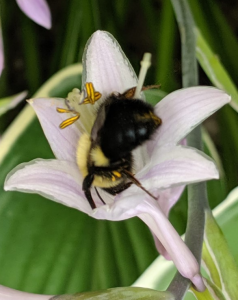 For Those Kind People who keep urging me to "release the book!" (as though I'm keeping the manuscript in a cage in my office)… a Brief Explanation of How Publishing Works (on the purely mechanical side):
Well, as my husband (who has certainly had enough experience by now to Know) says, "To a writer, 'finished' is a relative term." And it truly is. The first 'finished' is the most important <g>—when you have the Whole Thing in your hands. No feeling like it! (Though giving birth isn't far off…)
[NO! I haven't finished writing it. Dang close, though.]
After that though… I wrote up all the phases of production, some years ago, in a vain effort to explain to the many-headed just why the fact that I'd finished writing the book didn't mean it would be on their bookshelves the next day/week/month. I won't do the whole list here (I have work to do tonight), but in essence, the manuscript goes from me to two editors—one in the U.S., one in the U.K.—both of whom have been reading what chunks of the book I've finished already (so as to get a jump on things), but who will immediately start reading from the beginning, after which both of them will give me their separate comments and notes (there are always spots where a scene or part of a scene has been accidentally repeated, so that's where we—because I'm also reading it from the beginning—catch that kind of stuff and resolve it). I'll have been having my own thoughts as to anything I want to change, so will be messing with the manuscript with all three sets of input in hand.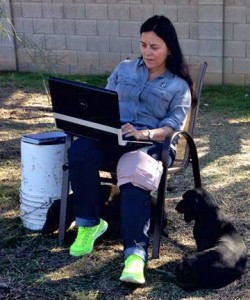 At right, I am at home in my yard, working, in 2015.
When that's done, the book is 'finished,' again—that is, it's ready to go to the copy-editor. This is a wonderful person (at least I hope she's still in business and available to do it for me again; she's done the last three or four books for me, plus several Lord John ones) whose thankless task is to read the manuscript One. Word. At. A. Time, and catch any difficulties along the way: typographical errors, inconsistencies (in names, ages, times, whatever—and there will be a number of them, owing to the size of the book and the way I write), incongruities (there's still a page in OUTLANDER—which was copy-edited by a, um, person of somewhat lesser talent, let us charitably say—where a maid brings in the tea-cups but carries out the brandy glasses at the end of the scene. Fortunately no one has ever noticed this), logical holes (she checks the distances between actual places and will let me know if it's really possible to get from point A to point B in three days or whatever), timeline issues (did the Siege of Savannah happen before or after the Siege of Charleston (only it was still being called "Charles Town" at that point, so we need to change all the "Charleston's"), and imposes 'house style' (meaning that Penguin Random House has its own conventions regarding things like whether numbers are given in digital form or spelled out, whether we do or do not use Oxford commas, etc.) throughout. She's usually doing this under hideous time-constraints and I sent her a bottle of Really Fine Whisky last time.
But then, I have to read the copy-edited version and 'reply' to it, i.e., there will be a number of marginal questions or comments that I need to answer and either address or dismiss. This is ungodly labor (and also being done under a major time-constrant), but Very Necessary.
THEN the manuscript goes back and is corrected according to my last-minute corrections and insertions (I almost always realize that two or three vital bits are missing, and hastily write those scenes and insert them with the copy-edit correx), and comes back to me (AGAIN!) as galley proofs. These are, as you doubtless know, the pages of the book, printed just as it will (we hope) appear on the shelf, but on loose, unbound sheets. This is where we catch disjunctions in the formatting (very rare, but they do happen), any (we hope) minor nits that everybody has so far missed (and there is no book in existence that goes to press without errors, believe me), misspellings of the Gaelic (compositors can not get a grasp on Gaelic words, no matter how carefully I print them, if they're inserted as corrections or additions. This is not helped by the fact that I don't speak Gaelic and don't always know if something is misspelled), and any truly last-minute insertions (there's a clause in my contract that says if I change more than 10% of the text during the galley phase, I have to pay for the extra type-setting. This contingency is Remote).
I'm not mentioning any of the book design or the messing-about-with-the-cover issues, because I mostly just have to give an opinion on those, not actually do the work. But it all takes time.
Let it be noted that we did ALL of the above within five weeks, for each of the last two books. This drove everyone to the verge of insanity (and was terribly expensive), and we Really Don't Want to Do That Again (any of us!), which is why you aren't getting a pub date until the manuscript is by-God Finished.
[NO, it isn't finished yet. Don't worry—I'll tell you when it is!]
---
And thank you to Grace Carroll for the lovely bee photo!
Related Information: In August, 2013, I created a flow chart of what happens to a book after I write it and it goes to my publisher, titled "What 'Finished' Means To An Author."
This blog was also posted on my official Facebook page on January 5, 2020.