---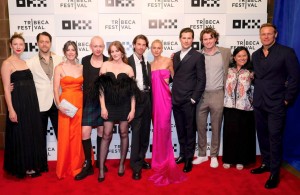 Phew… is what's on my mind…
VERY quick trip to a smoky New York five days ago for the Season 7 Premiere of Outlander! (Though we did fit in a quick visit to the Met…)
Wonderful to see everyone, and a Real Thrill to watch Episode 1 with a theater of Hugely Enthusiastic fans!
I'm sure y'all will be equally delighted to see it, too! Do let me know what you think!
Yes, I am short.
-Diana
---
Outlander, Season 7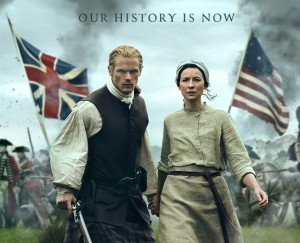 "In order to protect what they've built, the Frasers have to navigate the Revolutionary War. They learn that sometimes to defend what you love, you have to leave it behind."
The first episode of Season 7 of Outlander is available from Starz in the U.S.A. through streaming online, the Starz app, or the Starz cable network.
The new season is also available on cable networks and streaming services around the world. (See below.)
Season 7 begins with episode 701, 'A Life Well Lost,', in which "Jamie races towards Wilmington to rescue Claire from the gallows, only to discover that the American Revolution has well and truly reached North Carolina."
Click to watch the Season 7 trailer on Youtube, released a few months ago.
In the U.S.A. – Starz Network and Streaming:
Season 7 consists of sixteen episodes, with the the premiere released today on the Starz website and streaming app at midnight (Eastern time) in the U.S.A. The next seven episodes of the first half of Season 7 will be released each Friday in the weeks after on the Starz website or app for streaming at the same time.
On the Starz cable channel, the first episode will premiere today at 5 p.m. Pacific Time (8 p.m. Eastern Time).  The next seven episodes of the first half of Season 7 will be shown each Friday in the weeks after on the Starz cable channel at the same time.
The second half of Season 7, another eight episodes, will be shown in 2024 in the U.S.A., with a release date to be determined.
For those who are new to the Outlander tv series, Seasons 1 through 6 are available for streaming on the Starz website and app.
Seasons 1-5 of Outlander are apparently available to stream on Netflix, also. A new season of Outlander is usually released on Netflix two years after the finale episode airs on Starz in the U.S.A.. So Season 7 may be available to stream on Netflix sometime in 2025.
Global Release of Outlander, Season 7
For viewers outside the U.S.A., please check with your local cable network and streaming services for all options, which differ from country to country (much like book publishing!). Below is information that has been announced for some countries for Outlander Season 7 by a CNET article:
Canada – W Network. Season 7 will premiere on Sunday, June 18, at 9 p.m. (Eastern and Pacific times).
United Kingdom – Lionsgate Plus. Streaming service Lionsgate Plus has the rights to show Outlander Season 7 exclusively in the U.K.. Like the U.S.A., the new season premiere will be released on Friday, June 16, with new episodes being added once per week. Lionsgate Plus is also available as a channel add-on for Amazon Prime Video in the U.K.
Australia – Foxtel and Binge. Outlander season 7 debuts Fox One on Saturday, June 17, at 7:30 p.m. (AEST). If you don't have a cable package that carries Fox One, an alternative option is the streaming service Binge, which will have the new season on demand.
Countries including Belgium, France, India, Malaysia, Japan, Hong Kong, Poland, South Korea, and Singapore will have access to weekly episodes of Outlander Season 7 on Netflix alongside its release on Starz in the U.S.A. (above), as was done with Season 6.
Netherlands, Australia, Argentina, Brazil, South Africa, Mexico, and Sweden will have access to Season 7 on Netflix one year after its premiere on Starz, likely a June, 2024 release.
CNET's article also mentions the use of VPNs (Virtual Private Networks) for streaming the new season, but that's only for the very tech savvy to attempt, IMHO. <g>
The Outlander television series is produced by Starz, Sony, and Tall Ship Productions.
---
Information on the premiere and release dates outside the U.S.A. are thanks to CNET and Collider articles.